Colorado just reported $801 million in cannabis sales . . . In the first eight months of the year!
That puts the centennial state on track for $1.2 billion in sales this year.
It's the latest sign that the United States remains on track to become a $100 billion market.
Go here to multiply your profits (even if stocks drop).
Check out this chart from Colorado.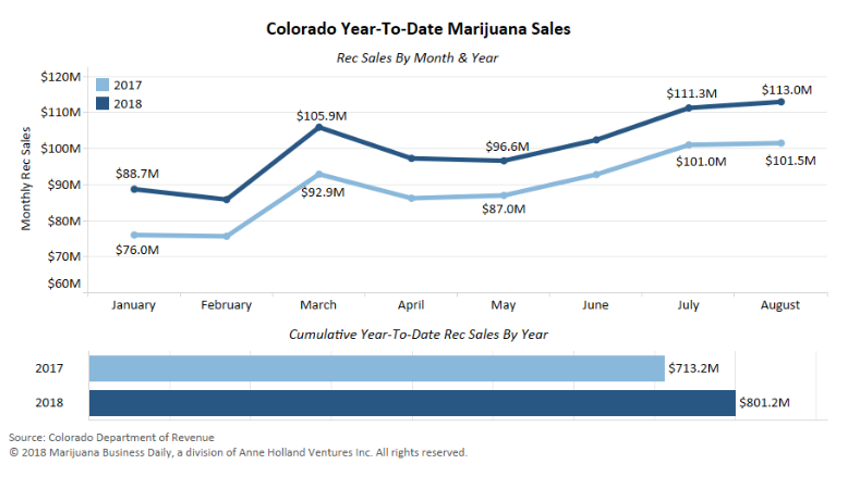 Right now, the state is on track to grow sales by 12% in 2018.
Two factors are driving growth of this market.
#1. Expanding Retail Store Locations
In August 2017, there were 498 retail locations selling cannabis in Colorado.
As of September 2018, that number grew 9% to reach 541 retail locations.
The expansion of retail stores makes cannabis more readily accessible. As a result, more storefronts and locations may be boosting consumption.
#2. New Products
Even more important are the changing dynamics of the market.
When the recreational cannabis market was new, most people simply purchased dried cannabis. This has essentially become a commodity product. And we've seen falling prices in states such as Colorado and Oregon that have established markets.
As Colorado's market matures, we're seeing an increase in concentrates and edibles. These products are increasingly popular, and have higher retail prices than dried cannabis.
Colorado continues to be a major market for legal cannabis.
The cannabis sales growth rate is still impressive . . . even though it is slowing down. Here are the recent annual growth rates for the market.
50% in 2016
27% in 2017
12% in 2018 (estimated)
Whenever a market grows considerably, it's natural to expect the growth rate to slow down.
The biggest growth will come from new states and new markets.
Ready to cash-in on this $100 billion growth market? Click here ASAP.
The next major market is Michigan.
On Nov. 6, voters in Michigan said YES to legalize adult use of cannabis. And that's creating a new market that could quickly reach $1.7 billion in annual cannabis sales.
Michigan is already the No. 2 state for medical marijuana. And it's likely to become the second-largest state for recreational marijuana too.
The move toward legalization is unstoppable.
Missouri and Utah just legalized medical marijuana. And history tells us we can expect them to move to an adult-use market in the coming years.
Our Pot Stock Profit Briefing reveals urgent details . . .
. . . Including how to profit with these simple pot stock trades.
Yours in Profits,
Ian Wyatt