July 19.
Tilray (NASDAQ: TLRY)  debuts on the NASDAQ with an IPO price of $17. And shares open for trading at $23.05 – a nice 35% IPO pop.
Who were the real winners?
Folks like billionaire Peter Thiel, who bought Tilray shares at just $8.90! How's that possible?
Peter didn't buy IPO shares . . . he bought pre-IPO shares.
Click here now to become a "pot stock insider" with this next pre-IPO.
Back in January, Tilray's parent company – named Privateer Holdings – raised $100 million from investors.
That valued the company – and Tilray – at just $600 million or $8.90 per share. Hedge funds, Silicon Valley insiders and billionaire investors piled into the cannabis stock IPO.
They knew that Canada would fully legalize cannabis. And they knew that Tilray would go public.
So, they really had just two choices.
Choice #1: Wait for the cannabis stock IPO on NASDAQ
Choice #2: Purchase private, pre-IPO shares.
Of course, the "smart money" investors know that big profits happen BEFORE a company goes public.
So, these investors bought up the pre-IPO shares. In fact, that financing was "oversubscribed." That means many investors were actually locked out of the deal – unable to buy shares.
NOTE: the same thing is going to happen with this $0.55 pot stock pre-IPO. Click here before it's too late.
Tilray is the hottest stock of 2018. This single chart tells the entire story . . .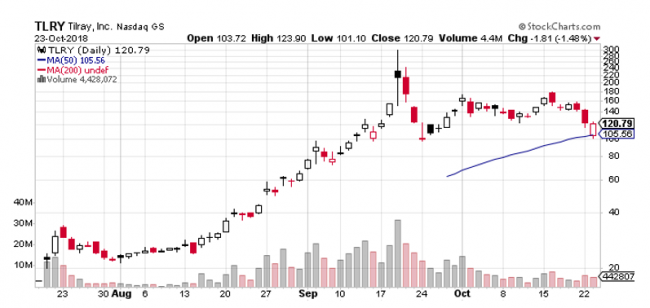 Anyone who bought Tilray stock must be thrilled (except the suckers who were BUYING when the stock was at $200 or $300).
But just look at the gains . . .
IPO investors are sitting on gains of 611%. That sounds good . . . until you realize that . . .
Pre-IPO investors made 1,257% profits!
That's right.
The pre-IPO investors made 2X bigger profits – simply by jumping in a few months earlier.
You've heard the saying, "The early bird gets the worm." And it's 100% true when it comes to initial public offerings.
Honestly, that's why I'm inviting you to this special webinar briefing.
Inside, I'll explain how you could grab pre-IPO shares of the next red-hot cannabis stock IPO. It's a 100% government-approved producer. Plus, the company has a robust plan for retail stores across Canada.
My LIVE webinar reveals everything.
Just click here for instant access (it's FREE).
See you Friday @ 2pm ET. Please mark your calendar – and join me LIVE.
Yours in Profits,
Ian Wyatt