Capital investments in cannabis stocks reached an all-time high last week.
Public and private marijuana companies raised over $8 billion. That total was highlighted by a $3.8 billion investment from Constellation Brands (NYSE: STZ) in Canopy Growth (NYSE: CGC).
The marijuana buyout boom continues to multiply . . .
Go here to earn 10X bigger profits with "pot stocks."
Just check out this chart from Veridian Capital Advisors…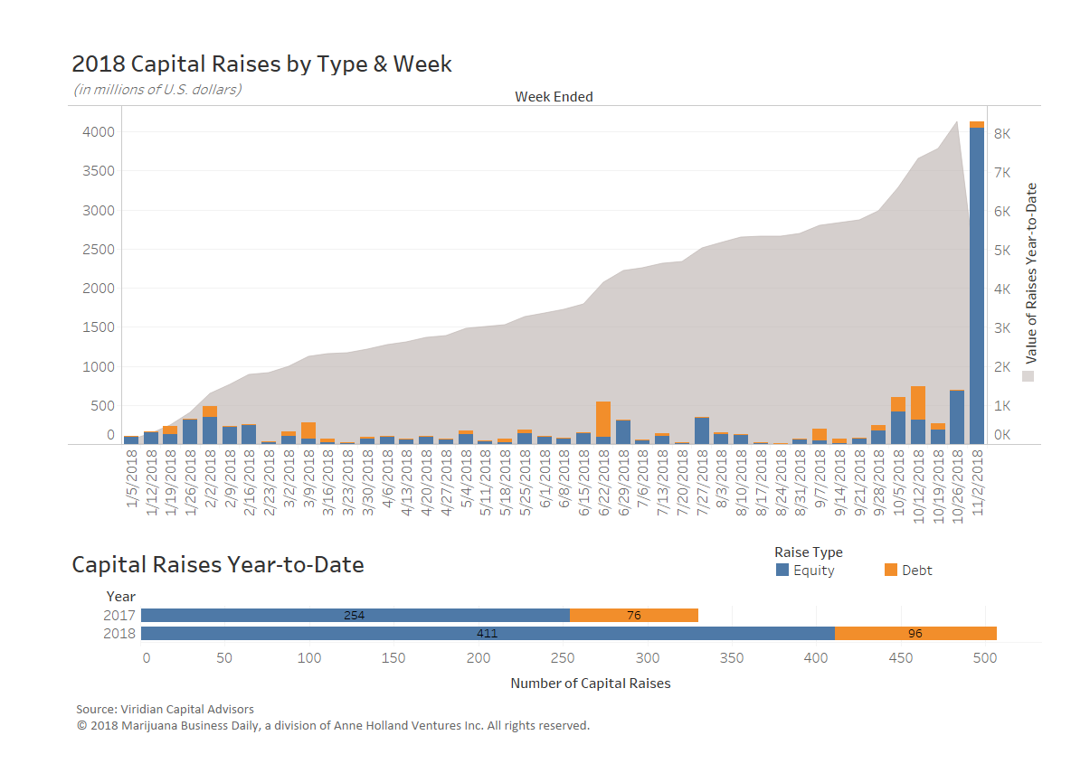 This shows the explosive growth in the sector.
The number of companies raising money has nearly doubled. Plus, the amounts of capital is increasing rapidly.
Big deals this week included:
Canopy Growth — raised $3.8 billion in equity from Constellation Brands. The deal gives Constellation a 38% equity ownership in Canada's No. 1 cannabis company.
Hydrofarm – a privately held company – raised $55 million in equity. The company makes equipment used in hydroponic growing of cannabis.
Surterra Wellness – a medical marijuana company – also raised $55 million from investors. The company operates medical dispensaries in the southeastern United States. The company previously raised $65 million from investors including billionaire William "Beau" Wrigley Jr.
Big money is pouring into these cannabis stocks – especially after the recent pullback.
That's because smart money investors love "buying the dip." And that's why they're loading up on pot stocks right now.c
Most folks just BUY and HOLD stocks – waiting for the price to go up.
However, my friend Andy uncovered a far better way to profit from America's No. 1 growth sector. It's an easy way to multiply your pot stocks profits.
Go here now for urgent details (it's FREE).
Happy Saturday,
Ian Wyatt