Although it is not an easy time to be a McDonald's (NYSE: MCD) shareholder, the company proves year in and year out that it remains a strong business. Investors know all about the problems McDonald's has encountered across the world, including intensifying competition in the United States and food safety issues in China.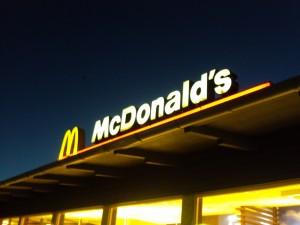 These forces have combined to cause McDonald's sales and earnings to decline this year. And yet, the stock is up 18% this year and recently hit an all-time high. By comparison, the S&P 500 Index is flat for the year.
At its annual investor meeting, McDonald's gave its investors some good news for a change. This could set the stage for McDonald's outperformance to continue into 2016.
McDonald's: 'Yes' to a Dividend Raise, 'No' to a REIT
The great thing about McDonald's is that even though the company is struggling to grow sales and earnings, it still generates a huge amount of free cash flow. McDonald's has a strong brand, is highly profitable, and its decision to cut back on opening new restaurants has allowed it to increase free cash flow this year.
For example, McDonald's generated $3.9 billion of free cash flow over the first nine months of 2015, up 14% from $3.4 billion in the same period in 2014. The reason McDonald's free cash flow continues to grow, even though revenue is down 9% over the first three quarters, is because it is aggressively cutting spending. Capital expenditures fell 32% over the first nine months, as the company closes under-performing restaurants. This year, McDonald's expects to close more stores in the U.S. than it opens.
The benefit  is that McDonald's is freeing up more cash flow, which can be returned to shareholders. This is why the McDonald's dividend is going up 5%, to $3.56 per share.
The other major news from the McDonald's investor meeting was the company's decision not to go forward with a real estate investment trust, or REIT. Investors had urged McDonald's to consider a spin-off of some of the company's massive real estate holdings into a REIT. The rationale was that pursuing a REIT structure would be a great way to unlock additional value for shareholders.
However, McDonald's decided not to pursue a REIT, saying that any possible benefits would be outweighed by increased financial and operational risk. Indeed, with interest rates in the U.S. poised to rise as soon as next month, an independent REIT would encounter significant financial difficulties in the months ahead.
At Long Last, McDonald's Is Showing Improvement
Importantly, McDonald's finally showed last quarter that its turnaround is materializing. Global comparable sales, a key metric that measures sales at restaurants open at least one year, increased 4% year over year. One of the biggest drivers for this was recovery in the key U.S. region, where recent results had been very poor. McDonald's U.S. comps rose 0.9% last quarter, a big achievement as this was the first quarterly increase in U.S. comps in two years.
In addition, the emerging markets performed extremely well. Comparable sales increased 8.9% in McDonald's high-growth markets, thanks largely to a favorable comparison period. Last year, McDonald's results were terrible in China due to a food quality scandal there that caused sales to collapse.
Moreover, management specifically pointed to its breakfast initiative as one of the major catalysts for the surprisingly good results last quarter. Overall, earnings per share jumped 28% year over year.
Momentum Is Finally on McDonald's Side
After several years of a stagnating stock price, McDonald's has finally broken out to reach a new all-time high. The company is still struggling under the weight of a rising U.S. dollar and its turnaround is far from over.
But the good news is that there are finally some positive signs appearing that indicate the turnaround is working. Long-term investors who have held onto McDonald's are finally being rewarded for their patience, and the 5% McDonald's dividend raise cements its position as a strong dividend stock.
DISCLOSURE: Bob Ciura personally owns shares of McDonald's (NYSE: MCD).
Organize Your Dividends With One Step
Do you know when your next dividend stock pays out? Do you know when the dividend stock you want to buy more of pays out — and how much? We've put together a simple calendar that highlights many of the market's best dividends into one easy to scan document. Read it once, and you'll see how to set up a 12 month dividend stream to ensure income all year long.
Click here to see the full details of the Dividend Calendar…