Hi – I just had a great meeting with Andy this afternoon… and I forgot to send you the details.
I'm rushing to record a video with Andy at my library…
But I want to give you the notes from our private meeting.
Here's a photo from my personal notebook…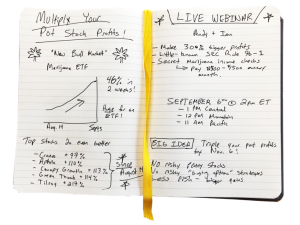 Do you want to profit from the new "pot stock" boom?!?
Click here and discover how to triple your profits by Nov. 6.
Seriously, one popular pot stock ETF is up 55.9% in 3 weeks! Plus – the top 5 stocks have DOUBLED.
Pot Stocks: A New Bull Market
It's a new bull market – and it's just getting started.
Here's the best news…
My colleague – Andy Crowder – has developed a secret "pot stock" profit strategy.
It lets you quickly multiply your profits – from the very best and 100% legal cannabis stocks.
For example, on GW Pharmaceuticals (NASDAQ: GWPH) the stock is up 13.9%.
But using Andy's secret trades, you could've made 4X bigger gains.
Ever hear of Cronos (NASDAQ: CRON)? It's up 80.4% since late June.
Yet you could've collected 120% profits – WITH LESS RISK.
Oh – and then there's Cara Therapeutics (NASDAQ: CARA).
The stock is crushing the market – with 63.6% YTD gains.
Once again – you could've doubled those profits – and earned 124% with Andy's secret.
Basically, if you're willing to take a couple extra steps, you could make 3X more money.
You can either click here now…
 Or…
You'll miss out on 4X – 5X more profits – trading the exact same stocks…
You'll have greater downside risk if stock prices fall…
You'll never earn monthly "marijuana income checks" for $500 – $1,500!
Ian Wyatt
P.S. Don't wait – this 1X live event is tomorrow.
Andy and I will be LIVE from Richmond, Vermont tomorrow at:
2 PM Eastern (New York)
1 PM Central (Chicago)
12 PM Mountain (Denver)
11 AM Pacific (Los Angeles)
Just click here now and confirm your spot.