2018 was a banner year for pot stock IPOs . . .
The Canadian Securities Exchange reports that cannabis stocks raised $3 billion in equity last year.
A new bull market is underway – and it's minting more millionaires than the Klondike Gold Rush!
Go here for my No. 1 Pre-IPO to buy now!
A grand total of 220 deals and pot stock IPOs raised nearly $3 billion in financing last year.
This cash is going to fund the creation of a new $100 billion legal marijuana industry in the U.S.
Here's the surprising thing . . .
Lots of American companies are going public in pot stock IPOs on the Canadian Securities Exchange. The exchange is also known as the "CSE."
Why?
Because outdated federal laws make it challenging and risky for them to go public in the U.S.
Last year, American companies accounted for 66% of the capital raised by cannabis companies trading on the CSE.
Just check out this chart from the Marijuana Business Daily: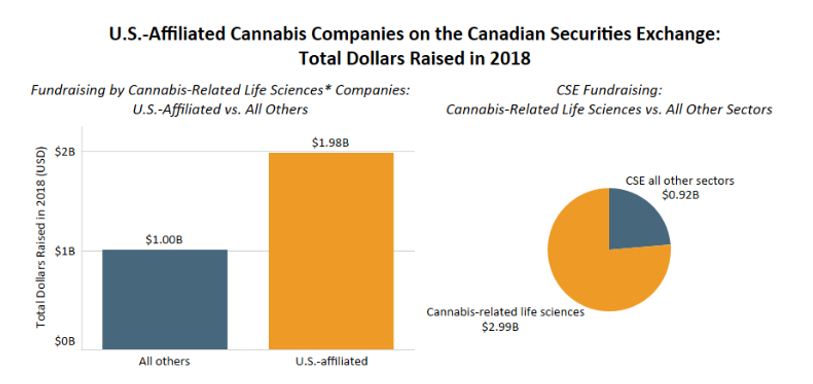 2015 – 2017 saw the rise of Canadian cannabis stocks going public and raising millions.
Yet in 2018, the focus began to shift toward U.S. companies.
That's because 33 U.S. states have legalized medical marijuana. And another 10 states have legalized adult use of cannabis.
At last count, the market was $9.7 billion in 2017.
While numbers for 2018 aren't final – the U.S. market could easily be $12 billion to $14 billion.
It's just a matter of time before the U.S. WILL legalize cannabis. The U.S. market could reach $100 billion – it could be more than 10X larger than Canada. And that's led to more U.S. companies going public and raising millions.
Two of the biggest IPOs included Curaleaf Holdings (CSE: CURA) and Acreage Holdings (CSE: ACRG.U). Each company raised over $300 million in their market debut.
It's also worth noting that one-half of newly public stocks on the CSE are cannabis companies.
One new cannabis tech stock expects to begin trading on the CSE within a couple of months.
Right now, the PRIVATE company is completing a final "Pre-IPO" financing.
It's a chance to BUY shares at the private price – before the initial public offering hype drives up the share price. That's why I'm jumping in – and putting up at least $10k of my personal savings.
Go here to for details on this high-profile Pre-IPO (it's FREE).
Yours in Profits,
Ian Wyatt