186% gains in just four years, from a blue-chip dividend stock.
Here's the #1 secret to those BIG gains.
These triple-digit gains come from a proven dividend winner.
John B. Sanfilippo & Son (NASDAQ: JBSS) is a special-dividend machine. It has paid a special dividend that has generated an average 4% yield each year since 2012.
Those dividends have helped send shares SURGING.
The stock is up 186% over the last four-years, versus an 81% return for the S&P 500. And a big reason for the gains is the company's proactive dividend strategy.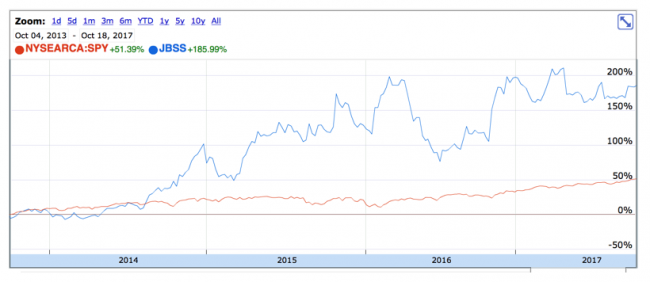 The dividend yield is attractive, to be sure. But JBSS' recurrent special dividend has offered much more than immediate high-yield income. The special dividend has offered the opportunity to generate a double-digit return in mere months.
JBSS would seem an improbable candidate for repeatable investing success. The name likely draws a blank. If it does, allow me to fill the void.
JBSS is one of the largest wholesale nut processors in the world. You know the company for its Fisher Nut and Orchard Valley Harvest brands (and for most private-brand grocery store nuts and bulk offerings).
Upon closer inspection, repeatable investing success is less improbable than you might think.
The Sanfilippo family has performed admirably in elevating the namesake company. JBSS has evolved from offering plain nuts to offering nuts and dried fruits with a cornucopia of preparations – blanched, oil roasted, dry roasted, salted, unsalted, whole, sliced, and halved.
Insiders have a healthy ownership in the stock, which has boosted my confidence in the company. In addition to ownership, family members also occupy key management positions. Therefore, they are motivated to make money for the shareholders.
The proof, so the idiom goes, is in the pudding. Or should I say nuts?
Specifically, the proof is in JBSS revenue and earnings growth. Revenue generated by the wholesale and retail nut business has grown at a 9% average annual rate since 2010. EPS has grown at a 12% average annual rate.
Just as important, management has grown the business intelligently. Smart growth includes proper capital deployment. Excess resources must be removed from the balance sheet to maintain high returns on invested capital. This includes excess cash.
JBSS management has relied on dividends  ̶  special dividends in particular  ̶  to maintain the optimal amount of cash.
The special dividends have given shareholders an immediate cash infusion. They have also offered a trading opportunity for alert income investors.
The seven previous special dividends have all produced a profitable trade on the special dividend immediately after it was declared. A small fortune could have been made if you knew when to buy and sell. Click here now, and I'll show you how.
John B. Sanfilippo & Son: Special-Dividend Trade Opportunities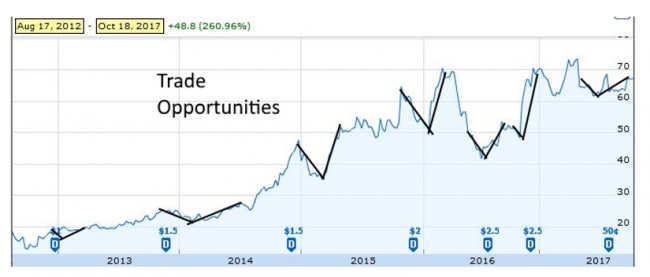 This repeatable pattern shouldn't occur, according to efficient-market proponents.  Investors  ̶  ever alert and vigilant  ̶  should bid away the opportunity to profit again before it arises.
Nevertheless, the JBSS trading opportunities have occurred. More important, investors have had a chance to repeatedly profited.
Go here to discover how you could profit from these unique dividend situations.
You see, John B. Sanfilippo & Son isn't unique. Every single month, there are two or three of these special dividends.
A 13.4% average yield has been the norm for the past couple months. And yields exceeding 30% are possible.
The right special dividends also set the stage for future share-price appreciation that can generate double- and triple-digit total returns.
But the "right" special dividends are the exception, not the rule. Most special dividends provide immediate income, but the price momentum soon fades. The all-important follow-through never occurs.
You can learn how to trade the right special dividend for income and price gains. I'll share an exclusive special-dividend trading strategy with Wyatt Research readers today at 12 p.m. ET.
Don't miss the next big special-dividend trade opportunity. Confirm your spot now. It's FREE to attend.
Save
Save
Save
Save
Save
Save
Save
Save
Save
Save