SAFE INCOME: Collect your $2,307 "Liberty Check" today – click here now.
======================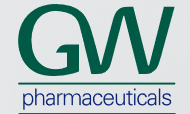 JP Morgan just came out with a very bullish BUY RECOMMENDATION on a top cannabis stock.
The firm just initiated coverage of GW Pharmaceuticals (NASDAQ: GWPH) with an "outperform" rating and a $134 price target.
That's a 23% premium to the recent share price.
NONE of the publicly traded cannabis stocks pay out dividends. And that's a problem for tons of investors.
These "liberty checks" could be the No. 1 solution. And the best part is that you could collect $2,307 – or much, much more – with the next payment.
Just click here now to claim your $2,307 liberty check.
JP Morgan thinks that GW Pharma's FDA-approved epilepsy drug could be a blockbuster.
Specifically, the firm says Epidiolex sales could surge past $1 billion per year by 2023.
This is the first major Wall Street firm to recommend shares of GW Pharmaceuticals. Other recommendations have come from boutique firms or those focused on the cannabis sector.
This news bolstered the entire market for cannabis stocks.
It's an indication that Wall Street's biggest firms are getting hot on pot stocks.
The timing couldn't be better. After a major selloff since mid-October, these stocks are trading at dirt-cheap prices.
Every successful investor knows the famous adage of "Buy Low, Sell High."
Just check out this two-year chart of GWPH to see why JP Morgan is issuing a BUY recommendation on this top cannabis stock right now.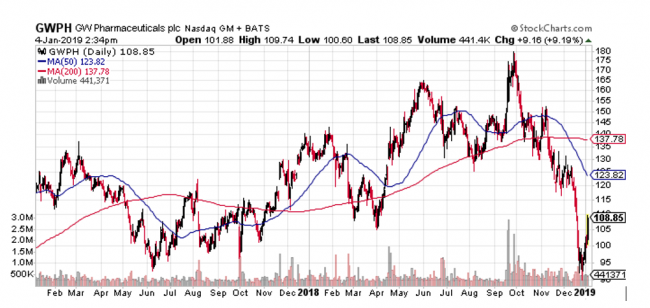 The firm's analysts know that GW shares are a bargain at just over $100.
After the recent selloff, pot stocks like this top cannabis stock are one of the best places to invest growth capital.
However, I always like to balance my growth investments with safe and steady income. And that's precisely why you've got to check out this LIVE webinar.
It's the simplest income trading system I've ever seen.
With one simple trade every 22 days, you could start collecting $2,307 or much, much more.
Just click here and I'll show you how.
Yours in Profits,
Ian Wyatt