The Uber hype has hit its peak, judging by how entrenched it has become in our vernacular. "I'm going to Uber to the concert," for example.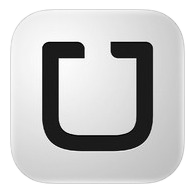 Clearly, Uber has the dominant brand name in the ride-sharing business, but its rivals are now pairing up globally to change that. This is happening for good reason, because there is nothing special about Uber Technologies.
If I created a service called Liquor2U, and guaranteed pairing up Jane Doe's bottle of red wine with John Doe's desire for the same, and got from Jane to John in an hour, I'd call myself a technology company, too.
Of course, I'd be violating tons of state and federal liquor regulations in the process. But that's no different than what Uber is doing. They just managed to spend a fortune on branding and marketing. But otherwise, it's essentially an illegal taxicab operation that offers a commodity.
Uber's rivals know this, so why not try and grab more market share in this commodity business. Lyft and Didi Kuaidi – China's largest ride-share company – are allowing each other's customers to use the other's services when traveling. So if a Chinese person uses Didi in China, he can jump directly onto Lyft's platform if visiting the U.S.
Didi just raised $2 billion, and also dropped $100 million into Lyft. That company has also been chatting with India's big service known as Ola – which already saw the future and merged with rival TaxiForSure to battle Uber. By combining, they now own an 80% market share while also using that leverage to raise $400 million from SoftBank and Tiger Global.
Didi owns 99% of China's taxi market at 78% of the for-hire vehicle market, making Uber's incursion challenging, to say the least.
Uber IPO Implications
What does this mean for ride-sharing in general, and for the expected Uber IPO?
The ride-share industry has had it easy so far. Uber has essentially bullied its way into markets, scoffing at regulations. Eventually, regulators will have had enough. Some jurisdictions will put the kibosh on it, and others will welcome it.
In other jurisdictions, Uber faces a potentially bad situation involving whether its "driver-partners" are considered independent contractors or employees. If a California jury decides the latter in the pending class action case, it will put Uber on the hook for tens of billions of dollars, and open the door to 49 other cases across the country.
Yet I don't think these are Uber's biggest problems. I think Uber has a much larger problem regarding its business model. As I recently wrote in the New York Observer, there's plenty of evidence that Uber has hit market equilibrium with the New York City taxicab. That's because drivers make next to nothing driving for Uber, when it all comes out in the wash. My white paper, "Towards a Cost Estimate for a NYC UberX Driver" showed that the average driver loses 68% of his first dollar per mile in revenue to expenses – and that's even before they pay income tax.
Consequently, we find that of the just over 20,000 registered Uber drivers in New York City, only about 15% of them manage to get on the streets at any one time. What happened to ride-sharing conquering the world? It's not happening in New York, where the street hail will always rule.
This is not unexpected if you know the history of taxi deregulation, which has historically led to worse service, higher prices and unsafe streets. That's because as Uber and competitors get into fare wars, drivers make less money –  and take less care of their cars – increasing passenger risk. Add in the fact that most insurance carriers will cancel personal auto policies if they discover (and they will) that you drive for a ride-share service, and you can see the witches' brew being concocted.
In short, then, Uber is under siege from all sides. I think it's foolish to get involved in an investment regarding Uber now or in the future.
This is making ordinary people rich
Ordinary people across America are getting insanely rich. Take Gladys Holm. She never earned more than $15,000 a year as a secretary. But by making one simple move, she was able to leave an $18 million fortune to a children's hospital when she died. There's many more just like her. Find out how they did it right here.