JOIN US FOR A FREE, LIVE WEBINAR:

"Getting Started with Options:
2 High-Probability Strategies for
Consistent and Easy Income"
Presented by Andy Crowder, Options Advantage

Thursday, July 26th -- 6:00 p.m. ET


When you attend, you'll receive two, actionable trades
you can execute immediately!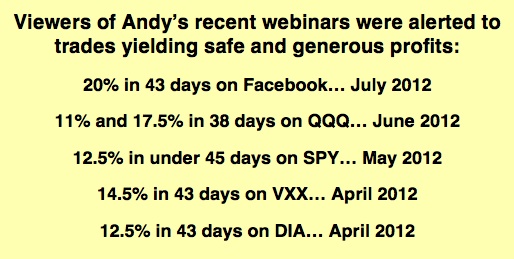 And you'll also get:
A reliable, short-term options strategy for profiting from broad directional
moves in the market -- it's easy to implement and carries a success rate
of 85%!


A low-risk income strategy for earning 5% to 15% a month without having
to constantly watch your brokerage account.


All your options questions answered - LIVE! Ask Andy anything.
All levels of investors are welcome.


Admission is free, but LIMITED to only 1,000 investors.

Hurry! Sign up below to reserve your seat
for this interactive event now:

About the Speaker:

Andy Crowder
Chief Options Strategist , Options Advantage

A recognized options expert and research analyst, Andy has been featured in The Wall Street Journal, Seeking Alpha, and The Kirk Report. You can see him trade and get all his latest research at Options Advantage, a real money portfolio for Wyatt Investment Research.

Since launching Options Advantage Andy's hit the target with 5 out of every 6 trades a winner with an average gain of 15.1%.