Join Options Advantage Portfolio Manager Andy Crowder - the 15-year options trading veteran helping self-directed investors grow and protect their wealth through today's turbulent markets.

Sign up today for Andy's FREE email newsletter, The Strike Price, right now.


Privacy Policy


(Report will be sent via email - please enter a valid address)

You'll discover Andy's patient and thoughtful approach to options trading - he executes just 1 or 2 trades a month - and boasts a win-rate of 85% -- that's 5 out of every 6 trades.

When you join Andy's The Strike Price newsletter for FREE, you'll get actionable information you can put to use right away including:

A high-probability options strategy for profiting from broad, irrational moves in the market. This short-term tactic is easy to implement and, best of all, carries a success rate of 85%!


An income strategy - that works in up, down, and even flat markets - that can hand you an easy 5% to 15% -- or more! -- a month, all without you having to constantly watch your brokerage account.


Weekly market insights on how to play the coming week's market moves.

So don't miss out! Join Andy today you'll also receive a free copy of his new special report, "The Vital Rule for Every Options Trader."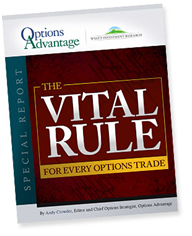 This new report will be emailed to you immediately and tells you step-by-step how to capture gains from the options market by following one simple rule... and how to avoid nearly all the losses that options traders commonly endure.

Get your copy of this essential report right now and start receiving The Strike Price in your inbox.

Just tell us where to send your copy of this FREE report.



(Report will be sent via email - please enter a valid address)

A SPECIAL NOTE ABOUT PRIVACY: your privacy is important to us. At no point will we share or give access to your email address to any third party unless required by law. Your email address is required to ensure that our research report gets into the hands of bona fide investors and so we can start your free subscriptions to Daily Profit. You can also expect to receive periodic updates from us on new services and feature enhancements as well as vetted, pertinent product announcements from other reputable publishers.