Used correctly, options can be one the surest, easiest ways to make money in the stock market.

But used incorrectly or without a proper guide, options can be confusing, frustrating, and a potential black hole for your hard earned money.

Your guide has arrived.

Veteran options trader Andy Crowder from Options Advantage will show you the way he's able to achieve an 85% win rate and pull in an average gain of over 15% on every trade by using two easy-to-use options strategies with high probability trades.

And starting today, Andy's giving you the details free, every week with his new weekly letter, The Strike Price.


Privacy Policy


(Report will be sent via email - please enter a valid address)

In each issue of The Strike Price you'll receive valuable analysis of current market direction as well as potential trade set-ups for the week.

Andy will also show you how to overcome key fundamental challenges facing options traders and turning them into consistently profitable trades.

Sign up today and get your first issue of The Strike Price starting on Sunday.

As a limited time bonus for early bird subscribers you'll also receive FREE, Andy's newest special research report, "The Vital Rule for Every Options Trade."

This recently released report is available only to readers of The Strike Price and by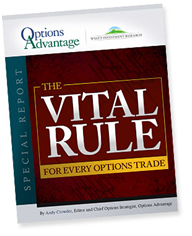 following Andy's guidance you'll immediately avoid the most common mistakes options traders are making today. In it you'll discover the #1 rule that if you follow it correctly can virtually guarantee you a high win rate in every options trade.

Just use the box below to tell us where to start sending your FREE subscription to The Strike Price and Andy's new special report.



(Report will be sent via email - please enter a valid address)

A SPECIAL NOTE ABOUT PRIVACY: your privacy is important to us. At no point will we share or give access to your email address to any third party unless required by law. Your email address is required to ensure that our research report gets into the hands of bona fide investors and so we can start your free subscriptions to Daily Profit. You can also expect to receive periodic updates from us on new services and feature enhancements as well as vetted, pertinent product announcements from other reputable publishers.