In China, 2018 is the "Year of the Dog." Here in America, it's the year of the "Liberty Check."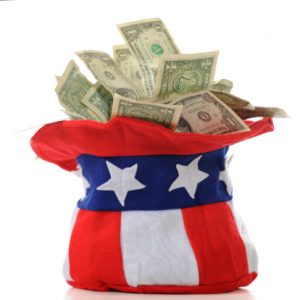 Eight companies have declared eight "Liberty Checks" year to date. A new payment has been declared every two weeks on average. This is nearly twice the number declared in the same year-ago period.
Some of these "Liberty Checks" have been as small as $510. Others have been huge – up to $2,820.
The year-to-date total now stands at $11,190. Click here to grab next week's "Liberty Check."
So, what's going on?
We need to give a begrudging nod to the president and to Congress. Politicians so very often corrupt more than they improve what they touch. This rare time, they got it right: They passed legislation that offered corporate-income-tax relief.
The president and Congress passed legislation that lowered the corporate-income-tax rate to 21% from 35%. The reduction was warranted. U.S.-based corporations were subjected to the highest corporate-income-tax rates in the industrial world.
Thanks to the lower corporate-income-tax rate and continued economic growth, U.S. corporations are on track to post the largest year-over-year earnings increase since 2010 (click here to grab your share of the profits).
That's just the start. Additional corporate-tax relief is found in Section 965 of the new tax code
Section 965 mandates that corporations pay a one-time repatriation tax of 15.5% this year on cash held in foreign accounts. The tax must be paid whether the cash is repatriated or not.
If you must pay, why not repatriate the cash?
A lot of corporations will repatriate. They'll repatriate a lot of cash. U.S. corporations are expected to repatriate in excess of $1.2 trillion this year.
U.S. corporations will literally be swamped with cash (and many already are). The plight is enviable. Nevertheless, too much of a good thing is still too much. McKinsey & Co. estimates that the 500 largest US non-financial companies have accumulated $1 trillion in cash more than their businesses require.
In other words, too much of a good thing – even cash – is really a bad thing. Excess cash is unproductive. It temps management to pursue value-destroying acquisitions or sub-par capital investments.
Share buybacks offer one outlet to drain excess cash, but it's an unappealing one. The bull market has run nonstop since March 2009. Many companies see their shares priced at the upper echelon of historical value.
Prudent managers know returning excess cash to shareholders is the best use of excess cash. Shareholders, the rightful business owners, are enriched; company maintains high returns on invested capital.
Therefore, paying out "Liberty Checks" is the best option. I expect to see record levels of new announcements this year.
If you are an income investor, you'll want to claim your share of these "Liberty Checks." We're talking big income and a big bang for the buck.
One coal-producing corporation declared a "Liberty Checks" that paid our $4,110! That's the biggest payment I've seen in many years.
My latest "Liberty Check" offered as much as $3,360 in a single payout – nearly 15X other income investments. The good news is that this payment is still available today.
But there's a catch.
You'll need to act fast. The opportunity to claim your $3,360 "Liberty Check" expires next Thursday.
Click here to get your name on the list ASAP.