What do all the data breaches and government challenges to consumers' right to privacy say about the merits of cybersecurity stocks? That depends on whether you believe that these stocks move on the merits of the products they provide, or on a somewhat irrational obsession to do the impossible.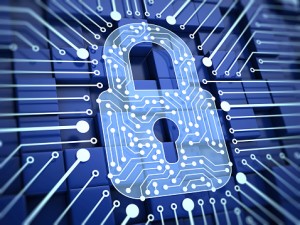 The fact is, privacy has become an outdated, almost quaint notion. Today we live in a world where high-profile data is breached on a regular basis, while the data we have managed to keep secure, like that on our Apple (NASDAQ: AAPL) iPhones, has become subject to legal challenge.
Twenty-five years ago, when the Internet was still an obscure tool for academics, consumers still had no idea how their right to privacy would soon be tested, a forward-looking security company arrived on the scenes with the name Pretty Good Privacy. If it seemed like an oddly self-deprecating name for a business that ought to be using the "very good" descriptor, it was actually a wise recognition of just how challenging privacy and security would soon become.
Cybersecurity Stocks: Excellent Investments
Today, if you think your data is secure or your personal information is private, you are probably naïve. But if you think that consumers will just willingly part with their personal information, you're just as naïve. With every private data set that becomes public, the stakes rise to develop a security solution that will stop the hackers in their tracks. Intellectually, we know there is no such product. But emotionally, we hold out hope for a fix.
And, since investing is an inherently emotional activity, cybersecurity stocks can make excellent investments. It's a crowded field and the pure-play cybersecurity firms must also compete with technology giants like Cisco Systems (NASDAQ: CSCO) that are also major players in security. But there are still some standalone companies that show promise, if not to solve the challenge of cybersecurity, at least move the needle.
Palo Alto Networks (NYSE: PANW)
This is a relatively small, 11-year-old company known for its "next generation firewall" built to protect networks against cyberattacks. While the company is not yet profitable, its revenues are growing rapidly and its stock has shown a steep ascent since going public in mid-2016.
Palo Alto Networks' shares are up about 180% since the IPO and have more than doubled in the past two years. Oppenheimer has a $177 price target on the stock, which is currently trading just shy of $150.
Vasco Data Security International (NASDAQ: VDSI)
This 15-year-old company based in Oakbrook Terrace, Illinois, makes hardware and software that secure access to information and provide authentication for cloud-based data.
Vasco's stock has been quite volatile, but over time it has shown strong growth, more than doubling in the past two years. Its revenue rose to $241.4 million last year from $201.5 million the year before. Vasco has also been consistently profitable and last year it earned $42.2 million.
PureFunds ISE Cyber Security ETF (NYSEArca: HACK)
Exchange-traded funds offer a way to invest in a single stock that offers exposure to multiple businesses in a certain sector. This cybersecurity EFT is a good option for investors who see potential in cybersecurity but are having trouble identifying the businesses likely to be market leaders over the long term. Given that securing our personal data and our networks is a rapidly moving target, it makes a lot of sense to hedge your bets by investing across a collection of security stocks.
While this ETF has not performed particularly well – it has fallen almost 20% over the past year – it has been rising steadily for the past two months, and could likely be poised for more growth as investors recognize the promise of this EFT.
This will change your life forever

A new technology is arriving in America right now. It's already transforming numerous industries—and threatening to completely upend many more. Not only does it promise to save countless lives and trillions of dollars, it's also going to make life much, much more pleasant for you. Even better: it can also make you a heck of a lot of money. But you better act fast—it's only a matter of time before this technology reigns supreme, not just here in America, but around the world. Click here now to discover it.