In a market climate of dizzying ups and downs, in which it seems the Dow Jones Industrial Average is moving 500 points each day in either direction, it's nice to see stability. It's helpful to remember that there are companies out there that have stood the test of time, with strong underlying businesses that continue to reward shareholders through thick and thin.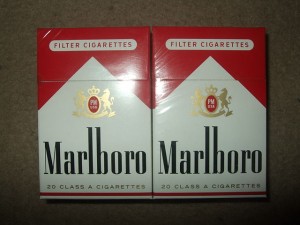 Tobacco major Altria Group (NYSE: MO) is the perfect embodiment of these qualities. It's a pillar of stability, and its flagship Marlboro brand has had an ironclad grip on the U.S. tobacco market for decades.
Altria's large portfolio of products has resulted in a long history of rising profits and dividends. Here's how the company managed to increase its dividend yet again.
A Tremendous Business Model
Altria brands include Marlboro cigarettes, smokeless products – including Copenhagen and Skoal chewing tobacco – a wine business, and a cigar business. As a largely tobacco-related company, Altria enjoys tremendous cash flow. Tobacco is not a capital intensive industry, which means Altria doesn't have to spend a lot of money to make its products.
The results speak for themselves. Altria generated $4.5 billion of free cash flow last year. Fortunately for investors, it's a very shareholder-friendly company. Rather than waste money on unnecessary spending, it returns most of its free cash flow to investors.
Altria paid $3.8 billion in dividends last year, and that figure is about to go up.
On Aug. 21, Altria's dividend was increased by 9%, to $2.26 per share on an annualized basis. This makes 49 dividend increases in the past 46 years, a remarkable track record of dividend growth.
Altria can distribute so much of its cash flow because it does not need to retain much cash to operate the business. It enjoys tremendous scale, with unparalleled distribution and a popular brand that holds pricing power.
Altria captured a record 44.2% market share for Marlboro last quarter, up 30 basis points year-over-year. Separately, it realized 51.1% combined market share last quarter for its key smokeless brands, Copenhagen and Skoal, up 10 basis points year-over-year.
Steady Growth Fuels Future Dividend Growth
Altria has a simple business plan, which is to realize modest revenue growth through price increases, and high single-digit earnings growth through revenue growth plus cost cuts.
Total revenue is up 5.5% through the first half of the year, thanks to pricing increases. Adjusted earnings per share rose 13% in the same period.
This year, Altria expects adjusted diluted earnings per share to come in between $2.76-$2.81 per share. That represents at least 7% growth from 2014, which gave the company enough flexibility to raise its dividend once again.
Altria is a slow-and-steady stock, but the returns really add up over time. According to the company, from 2010 to 2014 it delivered a total shareholder return of 230%, handily outperforming the market in that time. Its new dividend represents a hefty 4% yield.
Altria may not be the sexiest company, but for investors simply looking for a reliable company that allows its shareholders to sleep well at night, it's a great stock to own.
How to sleep easy at night
Is the economy keeping you up night? Do you worry there's another crash just around the corner? If so, you can stop worrying right now. All it takes is a few minutes. Find out how right here.