The S&P 500 Dividend Aristocrats are a select group of stocks that have increased their dividends for at least 25 years in a row. These stocks represent some of the strongest dividend stocks that investors can buy, because they have rock-solid business models which have stood the test of time. Plus, their shareholder-friendly management teams have remained committed to raising their cash dividends each year.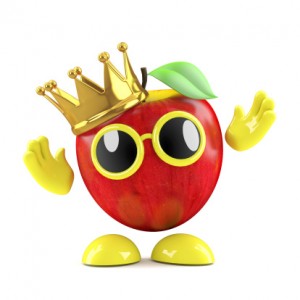 While Apple (NASDAQ: AAPL) is a relative newcomer to the dividend realm – it only reinstituted its dividend payout four years ago – it has all the makings of a great Dividend Aristocrat in waiting. At the company's annual meeting, CEO Tim Cook stated it was Apple's intent to raise its dividend each year.
Incredible Brand, Earnings Power
The biggest reasons why Apple stands to become a Dividend Aristocrat are because of the tremendous strength of its brand and its massive cash flow. Last quarter, Apple's earnings per share rose 7% year-over-year and revenue increased 2%. The results would have been even better if not for the strengthening U.S. dollar. Constant currency revenue increased 8%, and it's worth noting that this was a quarter in which Apple faced difficult year-over-year comparisons, due to last year's phenomenal success of the iPhone 6 models.
Apple generated $23 billion of free cash flow in the first fiscal quarter alone. It ended last quarter with $215 billion in cash, short-term investments and long-term investments. This is what compelled Cook to say that Apple is intent on raising its dividend each year – because the company can easily afford to do so. Apple's first-quarter dividend amounted to just 12% of its free cash flow.
This hasn't swayed the market, as Apple stock still trades for just 10 times earnings per share, a meaningful discount to the overall market valuation. The S&P 500 technology sector trades for 18 times earnings, and the overall S&P 500 trades for 20 times EPS.
Apple's low valuation has kept its dividend yield above 2%, which is a good yield given the low interest rates on traditional yield vehicles like savings accounts and CDs. It appears that investors are concerned over slowing growth, from both a product and geographic perspective. But if anything, this pessimism has kept Apple's dividend yield high, and gives income investors a buying opportunity.
Why The Dividend Promise Is a Good Thing
Revenue from the iPhone increased just 1%, which is causing investors to worry, since the iPhone itself represents 68% of Apple's total revenue. Apple recorded the lowest growth in iPhone sales since it was first introduced in 2007. Sales of other products disappointed as well. Revenue from iPads fell 21% year-over-year, while Mac revenue fell 3%.
Investors are also worried about comments made by Apple management regarding China. Tim Cook said on the conference call that the company is indeed seeing signs of softness there. Since China is now Apple's second-largest market by revenue, this is an added concern.
Some investors may view the commitment to raising dividends each year as a sign that the company no longer sees growth opportunities to invest in. But shareholders should view this as a good thing. Fundamentally, Apple's announcement to raise dividends means the company generates so much free cash flow that it has enough money to sufficiently invest in growth opportunities and return a portion of free cash flow as a dividend.
Making regular quarterly dividend payments keeps management teams honest. It is a reminder that shareholders deserve a portion of earnings, and the commitment to paying those dividends removes the temptation for management to waste money on senseless acquisitions.
Based on its low payout ratio, strong balance sheet and likely growth from new products, Apple investors can easily expect at least 10% dividend growth per year. With a 2% starting yield, investors should earn a 5% yield on cost in 10 years' time. And that doesn't include the benefit of dividend reinvestment along the way.
As a result, investors who like receiving rising income streams from their stock holdings can consider Apple to be a Dividend Aristocrat in the making.
DISCLOSURE: Bob Ciura personally owns shares of Apple (NASDAQ: AAPL).
The Ghost of Steve Jobs
Before he died, Steve Jobs gave an interview to the New York Times where he revealed his desire for Apple to create something unlike anything the world had ever seen. Though Jobs is no longer around, his dream for this technology is alive and kicking. According to global consulting firm KPMG, this technology "could provide solutions to some of our most intractable social problems." And Morgan Stanley believes it could save the American economy $1.3 trillion each year.