Levels of new and used auto sales in the U.S. are extremely important trends to watch. That data can often be both harbinger of bad times and the first dove of spring. If bad times are coming, new car sales tend to slump before other parts of the economy. On the other side, they are one of the first things to recover.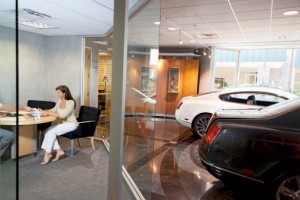 As an advertising salesmen once told me, "You can tell the health of the economy based on the number of car commercials you see on TV."
Now we have a situation in this country that is very dangerous: low interest rates. The very same monetary policy that caused the housing crisis is in play again, but this time we can add new and used car financing to the mix. Low rates means easy money, which means easy purchases for consumers.
Many of them are buying cars. The latest report from the New York Federal Reserve shows us this on page 8. In fact, it appears it doesn't matter what kind of credit people have; they are all buying cars.
The "uh oh" trend is on page 13 of the report. That's shows where new defaults are occurring and how they are starting a new trend. New defaults were declining in trend, and now that trend is basing. It will likely start to climb next, because on page 14 are the accounts that are seeing 90-day-plus delinquencies; these are rising.
Now, there's some data over at Zerohedge.com that's worth examining. I regard the website as alarmist to say the least, but that does not mean one should dismiss the content or the data. After all, data is data. The question is what that data means.
Echoes of the Mortgage Crisis

Zero Hedge shows a decline in the Manheim Used Car Price Index. As the price of used vehicles falls, the trade-in value of those already owned also declines, making them worth less. It thus incentivizes the consumer to walk away from the loan as the asset falls in value and depreciates. That's what happened with the mortgage crisis, and houses were supposed to be assets that didn't even depreciate.
Then we add the fact that automotive inventory-to-sales ratios have been climbing, and are now at levels not seen since the financial crisis. Higher inventories mean even lower prices.
We are seeing this play out in the stock market. The First Trust Nasdaq Global Auto ETF (NYSEArca: CARZ) is a fund that cobbles together investments in all of the major car makers. That fund is down about 26% from its high.
Auto Dealers Weaken
Meanwhile, the one-stop used car auto shop conglomerate named CarMax (NYSE: KMX) recently came in with weak results, and the mega-monster named AutoNation (NYSE: AN), which sells both used and new cars, is down 36% from its high.
The market may be saying that the auto business is bad, and will be bad for awhile. The market may also be saying it has factored in all that data already. My gut, however, tells me that this cheap credit is going to get a lot of people in trouble with cars as it did with houses.
Tesla, Apple and Google Are Creating This
When people think of Tesla, what immediately comes to mind is the world's first electric car. It's an astounding achievement. But what few people realize is that Tesla's next technological wonder could easily put it to shame. Morgan Stanley says this breakthrough could save the American economy $1.3 trillion each year. And Tesla's not the only one racing to get it out the door. Apple and Google are working on their own versions too.
Get the whole story right here.