$50 billion annually.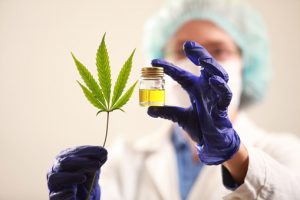 That's the potential market size for cannabinoid-based pharmaceuticals, according to Ackrell Capital.
Go here to discover the best stocks to BUY NOW.
Cannabis will be a major breakthrough for the pharmaceutical industry. Yet most big pharmaceutical companies are sitting on the sidelines.
One exception is Novartis (NYSE: NVS) – it's the fourth-largest pharmaceutical company in the world.
A Novartis division called Sandoz Canada recently signed a strategic partnership with Tilray (NASDAQ: TLRY). The companies will work together develop and market new products.
Tilray is already involved in six pharmaceutical drug trials in Canada.
There are now rumors that big pharmaceutical companies – including Novartis, Merck (NYSE: MRK) and Pfizer (NYSE: PFE) – may be looking to buy out cannabis companies.
This could be the next phase of the Marijuana Buyout Boom (click here for details).
Cannabis Solves America's Opioid Crisis
Big pharma is getting rich on opioids.
The market is expected to reach $187.4 billion within two years.
Given the opioid crisis, there's increased scrutiny of the pharmaceutical companies and doctors.
New research suggests that cannabis could be a much safer alternative.
The Journal of Health Economics sound that "marijuana is a far less addictive substance than opioids and the potential for overdosing is almost zero."
In New York state, the Department of Health found that full legalization would "outweigh the potential negative impacts."
The state also announced that doctors can use medical marijuana as a replacement for opioids in any situation.
It's another sign that cannabis pharmaceuticals could be the same size as the recreational market.
The Next Cannabis Stock Buyout?
This image shows the huge growth that's underway right now – both for recreational and pharmaceutical cannabis.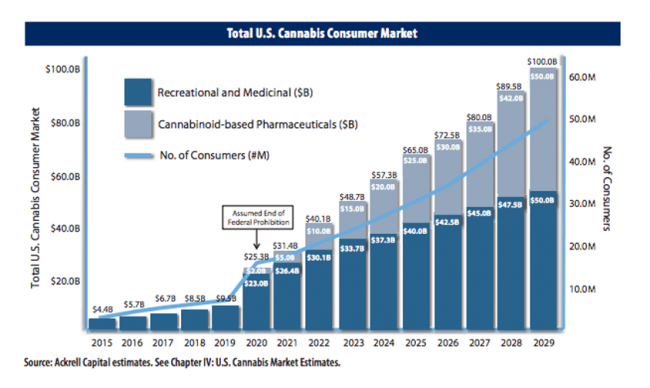 In the coming months, I'm expecting more partnerships like the Novartis-Tilray deal.
Plus, I'd expect big pharma to make strategic equity investments in smaller publicly traded cannabis stocks . . . and cannabis stock buyout
There has already been lots of traction from alcohol companies . . .
With Constellation (NYSE: STZ) investing in Canopy Growth (NYSE: CGC).
Plus, we saw Molson Coors Brewing (NYSE: TAP) form a partnership with a small Canadian company . . .
And Heineken (OTC BB: HEINY) subsidiary Lagunitas is getting into cannabis with a cannabis-laced sparking water called Hi-Fi Hops.
The big pharma companies will be inking deals in the coming months. And this could spark a series of buyouts in the sector.
Go here to RSVP for my LIVE "Marijuana Buyout Boom" webinar.
It's 100% free – just click here.