In January, the United States lifted economic sanctions off Iran. This was done in an attempt to restore peaceful relations between the two countries. As part of the agreement, Iran will curb its nuclear program, and in exchange, the U.S., United Nations and European Union will lift economic sanctions.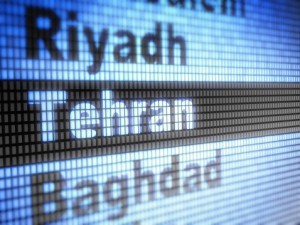 One of the many goals of lifting economic sanctions is to not just provide economic relief to Iran, but also to open opportunities for U.S. companies to do business there.
This is exciting news for a number of reasons. First and foremost, Iran is an attractive investment opportunity for U.S. multinational companies. It is a country of 80 million people and has an emerging middle class.
Boeing (NYSE: BA) could be one of the companies best positioned to capitalize on the U.S. restoring relations with Iran, as recent news suggests Iran could be ready to order hundreds of new aircraft.
Strategic Shift Gives Boeing the Advantage
Boeing has switched strategic focus in recent years. It has put less emphasis on defense, in light of shrinking military budgets in the U.S. and around the world. Instead, it has placed greater focus on commercial aircraft.
Its revenue totaled $96.1 billion last year, of which approximately $66 billion – or 68% – came from commercial aircraft. This segment grew by 10% for the year, while its military aircraft revenue remained flat from the prior year.
Compare this to other companies in the aerospace and defense sector, which still rely heavily on defense. For example, defense giant General Dynamics (NYSE: GD) generates approximately 72% of its annual revenue from government defense budgets.
This strategic shift puts Boeing in a unique position to benefit from stronger economic ties between the U.S. and Iran, because the global commercial aircraft market is booming. Boeing's commercial aircraft deliveries rose 5% in 2015 and hit a record for the company. In addition, it ended last year with a strong backlog, at $489 billion, including $83 billion of net orders during 2015.
Boeing is already highly profitable and growing, and an agreement with Iran would add another catalyst to the stock. Since Iranian sanctions were lifted, it has signed agreements with several European companies. So far, U.S. companies have lagged behind, but Boeing is working hard to change that.
Boeing Nears a Deal
According to The Wall Street Journal, Boeing has opened talks with Iranian airlines about a possible deal for its aircraft and services.
It's important to note that discussions are still in the early stages – after all, no formal deals on aircraft or services were made during the meetings, and Boeing would still require further regulatory clearance to deliver the airplanes.
But the fact that the two sides have opened talks is in itself a notable event. And there is a big opportunity for Boeing. Iran's reluctance to curb its nuclear ambitions and the resulting sanctions have saddled the country with one of the world's oldest aircraft fleets.
The Journal reports Iran government officials have estimated they could be in the market for as many as 400 aircraft. As the world's leading airplane manufacturer, this could be a huge opportunity for Boeing.
Why Boeing Shares Could Lift Off
Boeing had a very successful year in 2015. Revenue rose 6% last year. It generated $6.9 billion of free cash flow in 2015, up 4% year-over-year. If it can come to an agreement with Iran, it could do even better in the years ahead.  The news that Boeing may soon provide planes to Iran could provide a tailwind to its future growth.
Boeing's fundamentals remain strong and the company uses its cash flow to reward shareholders with compelling cash returns. In December, the company announced a 20% dividend increase, as well as a new $14 billion stock buyback program. If Iran places a large order, it may help keep even more cash flowing through to investors.
The stock offers a solid 3.3% dividend yield. If the company seals a deal with Iran, Boeing shares look ready to take flight.
DISCLOSURE: Bob Ciura peronally owns shares of Boeing (NYSE: BA).
You Could Collect Dividend Income Every Month!
We've put together a simple calendar that pulls together all the market's best dividends into a single, easy-to-read document. One look, and you'll be able to set up a 12-month dividend stream for regular income every month.
Click here to see the full details.