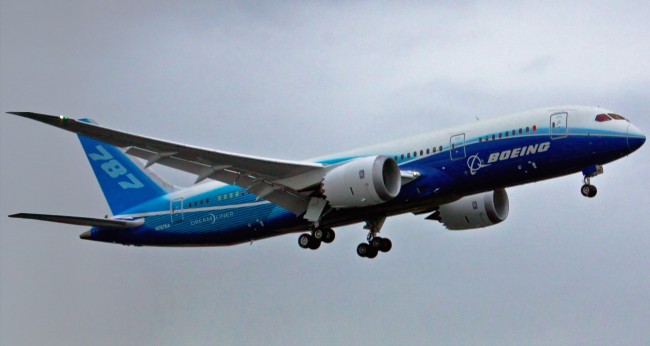 Aerospace and defense giant Boeing (NYSE: BA) was recently hit with allegations that it uses questionable accounting practices for some of its major aircraft models. Not surprisingly, the news has negatively affected Boeing stock in 2016. Boeing shares are down 20% just since the start of the year, a steep drop for what most analysts consider to be an industry-leading blue chip company.
Investors tend to sell first and ask questions later, but the reflexive selling may be a mistake. Boeing remains a cash-generating machine, and the depressed Boeing stock price has sent its dividend yield to nearly 4%. Therefore, the short-term panic could be an excellent buying opportunity.
Boeing Stock and the SEC Inquiry

The steep decline in Boeing shares since the start of 2016 stems from questions surrounding Boeing's accounting of costs and expected sales of its Dreamliner and 747 planes. The Securities and Exchange Commission has decided the questions were significant enough to announce a formal inquiry, which is obviously a concern because those are Boeing's most iconic planes.
The inquiry is in relation to Boeing's use of program accounting, which spreads its high early costs over a large block of deliveries. The method allows the company to book future profits and cost-cutting expectations in current earnings.
At an investor event last week, Boeing CEO Dennis Muilenburg, who becomes chairman on March 1,  defended the company's accounting practices, saying that he was very confident in its accounting for 787 costs.
Boeing's type of program accounting has been in use for decades. As a result, it's entirely possible the SEC will not take any action, and even if it does, it could simply result in modest fines or some other short-term financial penalty, neither of which would significantly hurt Boeing's long-term prospects.
Boeing Changes Course
In recent years, Boeing has shifted its focus from defense to commercial aircraft manufacturing. The reason is that defense is a highly competitive industry, and also, many governments around the world are in the process of cutting defense spending.
Boeing has charted a different course for itself than many other companies in its industry. This shift in focus could pay off, because the commercial aircraft market is booming. Deliveries of commercial aircraft rose 3% in 2014, representing the fourth consecutive record year. Boeing's own commercial aircraft deliveries rose 5% in 2015 and hit a record for the company.
As a result, Boeing's fundamentals remain strong. The company grew revenue by 6% and generated $6.9 billion of free cash flow in 2015, up 4% year-over-year.
This growth could very well continue, as there are plenty of new markets to fuel Boeing's future growth. One is Iran – and Boeing recently obtained a license from the U.S. government to hold talks with airlines in Iran about their needs for jetliners.
Boeing's book of jetliner orders now amounts to seven years of production, and that unprecedented backlog should provide years of steady growth. Boeing recently announced it is ramping up total 787 Dreamliner production, from 10 planes a month to 12.
Buying Opportunity for Boeing Shares?

All of this signals that demand for Boeing aircraft remains very strong. At the investor event last week, Boeing stated its commercial airplane profit margins would widen over the next five years and Boeing hopes to return to double-digit profit margins this year.
Strong margins will help support Boeing's earnings and its dividend, which currently yields 3.8%. And, thanks to its declining stock price, shares trade for 15 times earnings. Boeing shares traded for more than 20 times earnings at this point one year ago. Boeing is significantly cheaper than the broader market, and it also has an attractive dividend yield.
Since Boeing remains a leader in its industry with a very bright future, it could be an excellent buying opportunity after the punishing sell-off at the start of 2016.
DISCLOSURE: Bob Ciura personally owns shares of Boeing (NYSE: BA).
Organize Your Dividends With One Step
Do you know when your next dividend stock pays out? Do you know when the dividend stock you want to buy more of pays out — and how much? We've put together a simple calendar that highlights many of the market's best dividends into one easy to scan document. Read it once, and you'll see how to set up a 12 month dividend stream to ensure income all year long.
Click here to see the full details of the Dividend Calendar…