All of us are familiar with the old adage that "breakfast is the most important meal of the day." But who knew it applied to investing as well?
Breakfast is now the centerpiece of a "war" between a number of fast-food companies and others for market share of people's stomachs.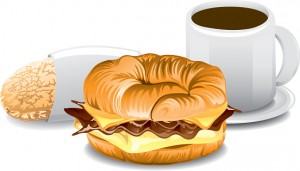 It's all due to the fact that Americans are shifting away from high-carb breakfasts like cereal toward protein-rich foods to begin their day.
And it's not all because of health consciousness. Surveys reveal that millennials don't like eating cereal because they have to clean their dish afterward. Wow! But that's a subject for another day.
Let's sit down and dig in to how the breakfast wars are heating up.
McDonald's All-Day Breakfast
The battle for breakfast really started simmering with the launch of a limited breakfast menu available all day by McDonald's (NYSE: MCD) last October. It did this to try to regain lost market share from its rivals.
It was a huge success, with McDonald's sales at its U.S. outlets experiencing their best quarterly sales in nearly four years. McDonald's says that breakfast menu items now comprise 25% of its overall sales.
The McDonald's turnaround, engineered by new CEO Steve Easterbrook, was not lost on shareholders. McDonald's stock catapulted higher by about 20% since October.
And McDonald's is not sitting back and reveling in its success either. The company is test marketing a larger breakfast menu right now. The expanded menu will include the popular McGriddle sandwich and a new sandwich made with biscuits.
Competitors Turn Up the Heat
McDonald's rivals are not sitting by idly either.
Take Taco Bell, for instance, which is a unit of Yum Brands (NYSE: YUM). The company recently launched its new $1 breakfast menu. However, it will serve those menu items only during the breakfast hours of 7 a.m. to 11 a.m. Taco Bell denied that the new $1 menu was in response to McDonald's breakfast surge. But it says it expects the $1 price point to be a big driver of sales.
What about McDonald's other competitors?
Wendy's (NASDAQ: WEN) is still searching for a breakfast winner. And so is Burger King. There are continuing rumors that the company, owned by Restaurant Brands International (NYSE: QSR), will also go the all-day breakfast route.
Two other rivals – Starbucks (NASDAQ: SBUX) and Dunkin' Brands (NASDAQ: DNKN) – have both had some success with breakfast sandwiches.
But Dunkin' has been under pressure from both Starbucks and McDonald's. In its latest quarter, the company reported that domestic same-store sales fell for the first time since it went public in 2011.
It's not surprising then that Dunkin' revamped its menu. The menu now emphasizes its wide variety of beverages, including its signature coffee – and of course, "all-day breakfast" options.
The all-day breakfast could help. Dunkin's problem is that more than 60% of its sales occur between 4 a.m. and 11 a.m. It desperately needs sales outside normal breakfast hours.
Dunkin' may also benefit from the brewing criticism of how Starbucks changed its reward program. Instead of being based on the number of visits, it's now based on how much customers spend. Dunkin's rewards program should look good in comparison.
And the Winner Is…
Who will emerge as the winner in this battle for market share?
My pick is McDonald's. And it's not just because of breakfast.
CEO Steve Easterbrook is sharp. In fact, he may be ready to steal a page or two from Starbucks' playbook.
McDonald's is coming out with its own rewards program either late this year or early next year. It will offer customers deals based on the number of visits they make to McDonald's.
It is also believed customers will soon be able to pay for their meals with their phones, using the McDonald's app. Starbucks' app has been hugely successful. Their customers used the app to pay for 21% of Starbucks' U.S. sales in the first quarter of 2016.
Putting these new ways to build a customer base together with the old Ray Kroc model of centering the company around real estate adds up to a winning formula to me.
Organize Your Dividends With One Step
Do you know when your next dividend stock pays out? Do you know when the dividend stock you want to buy more of pays out — and how much? We've put together a simple calendar that highlights many of the market's best dividends into one easy to scan document. Read it once, and you'll see how to set up a 12 month dividend stream to ensure income all year long.
Click here to see the full details of the Dividend Calendar…