One Canadian cannabis stock has been surging in 2019 . . .
With gains totaling 96%.
Go here to discover the next "pot stock" winner.
The company isn't a major player like Canopy Growth (NYSE: CGC) or Aurora Cannabis (NYSE: ACB).
Instead of being located in Toronto or Vancouver, this little-known Canadian cannabis stock in a niche player focused on the smaller market of Quebec.
The company is Hexo Corp. (NYSE: HEXO).
Until late January, shares were only traded in Canada and on the Over the Counter exchange in the U.S.
That made it difficult for many American investors to buy the stock.
Plus, rules restrict many mutual funds and pension funds from investing in OTC-listed stocks.
That's why it was huge news when the New York Stock Exchange approved Hexo's request to trade on the Big Board.
This is known as an "up-listing" – when a stock moves from a smaller exchange like the Pink Sheets or OTC to either the NYSE or NASDAQ.
When this happens, a stock suddenly gets more credibility and exposure. That in turn attracts new investors.
Click here for my top five cannabis IPOs – before they take off.
Shares of Hexo have soared 96% since the start of the year. And listing shares on the NYSE has helped the stock attract institutional investors.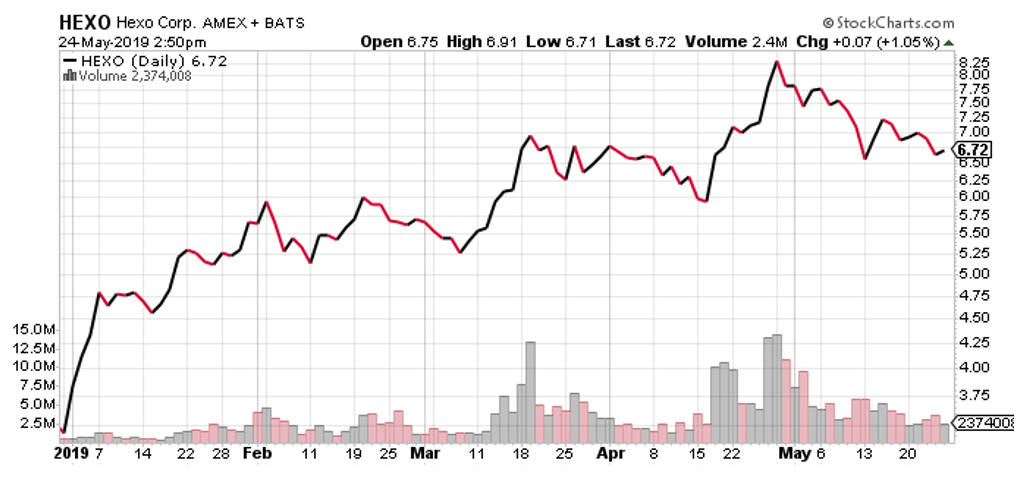 Of course, that's not the only thing fueling the bull market for Hexo.
The company announced a $263 million acquisition of Newstrike Brands (TSX: HIP). And that acquisition was well received by investors – who bid up Hexo shares after the news.
Meanwhile, Hexo also partnered with Molson Coors (NYSE: TAP). The two companies formed a partnership to create cannabis drinks containing CBD.
Until recently, Hexo has been largely overlooked.
Last August, I first invested in Hexo when shares were trading on the OTC. And I was able to pick them up at the dirt-cheap price of just $3.62.
Today, those shares are up 86%.
Buying stocks before an upgraded listing can be a great way to earn quick profits. And Hexo is a great example of how quickly these gains can stack up.
Go here now for my #1 pot stock IPO.
Happy Saturday,
Ian Wyatt