YOUR INVITATION: How would you like to BUY shares of a new cannabis IPO – on DAY #1? It could be like buying Amazon stock back in 1997!
Today is your chance! Get early access to IPO shares for less than $5. Click here ASAP – starts today at 12 p.m. ET.
Last night, I was unpacking my suitcase and pulled out the April 20 issue of USA Today:
Industry Growing Like Weeds: Trump's perceived green light entices cannabis investors to spend billions.
That was the headline of the front-page story.
You see, when I was walking through the lobby of The Saratoga Hilton in Saratoga Springs, I'd spotted the newspaper issue.. And in my rush to depart the next day, I simply threw the paper into my bag without reading.
April 20 is widely considered to be "weed day." So, it was no surprise to see USA Today capitalizing on the story. With 7 million daily readers, the paper is the biggest in the U.S.
The story began…
"America's fast-growing marijuana industry appears poised for supercharged growth after winning what cannabis entrepreneurs see as approval from the Trump administration to forge ahead."
The story highlights how legal sales could grow from $8.3 billion in 2017 . . . to $25 billion in  2025. Just check out this infographic: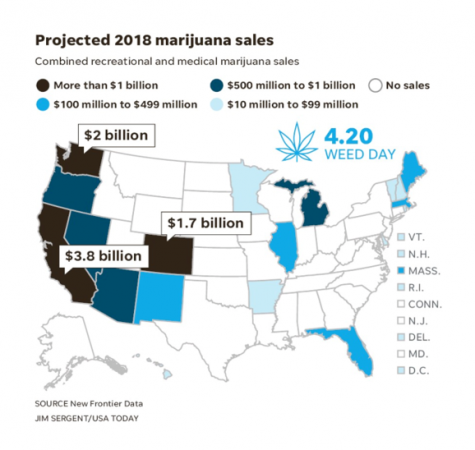 New Frontier Data – a cannabis research firm – estimates that the industry will hit $11.7 billion in sales this year. That'd mark a 25% increase. Legal weed is the fastest-growing sector of the U.S. economy.
Meanwhile in Canada, the market could grow to over $8 billion in annual sales. Recreational sales are expected to go live nation-wide by mid-August.
Meanwhile, Forbes estimates that the "black market" for cannabis is a $50 billion market. So, you can see that legal sales are just scratching the surface.
Right now, it's still the early innings for this growth market and for cannabis investors. And it's not too late for you to grab your stake.
Go here ASAP for today's urgent LIVE briefing.
You'll discover why my top stocks could double within the next 100 days. Plus, get details on the new "pot stock" IPO that's starting to trade.
You could grab your shares for just $5 – click here now.
Yours in Profits,
Ian Wyatt