Venture capital funding for cannabis companies hit a record high in 2018.
And this sets the stage for a new wave of secret "pot stock" IPOs in 2019.
Go here now to secure the best pot stock IPOs.
Venture capital firms focus on investments with huge growth potential. So, it makes sense that they're aggressively targeting the cannabis market.
It's America's No. 1 growth market with sales expected to surge 953%!
Pitchbook reports that venture capital firms invested $881 million in private marijuana companies last year.
That was a 120% increase from 2017.
Venture Capitalists Invest $881 Million (click here)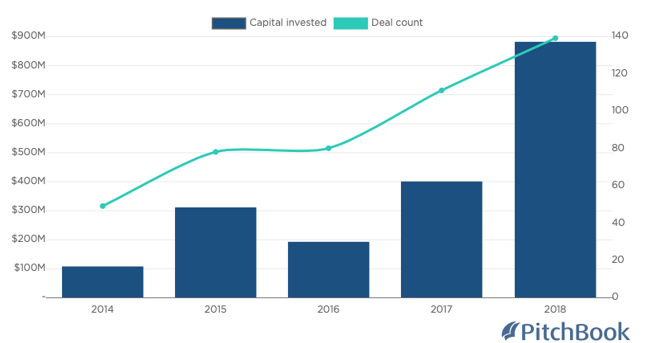 Source: Pitchbook: Top VC deals in cannabis 2018
A total of 139 companies raised capital from these firms.
Only three of these deals topped $50 million. And the biggest deal was a $100 million financing for Privateer Holdings (the parent company of Tilray).
Meanwhile, the average investment was just $6.3 million.
That means venture capital firms are investing relatively small amounts in cannabis companies. And it's just not enough.
Cannabis companies need to raise $20 million . . .  $50 million . . . or even over $100 million to build out across the U.S. And venture capitalists aren't willing to pony up that much cash for these private companies.
However, they are willing to finance companies that are going public.
That's why American cannabis companies are rushing to launch cannabis IPOs (click here for my briefing).
In fact, there are over 139 private cannabis companies that could be quietly preparing to go public.
But you won't find the shares on the NASDAQ or NYSE. That's because these companies aren't approved to trade on these stock exchanges.
So, these companies are using the Stealth Crossover IPO as a secret back door.
This little-known loophole allows these companies to quickly go public and raise +$100 million from investors.
The best news is that these shares are 100% accessible to regular folks like you and me.
My research reveals that it's crucial to invest in these companies as soon as the stock starts trading.
By getting invested on Day One, you have a shot at profits of 2,199% . . . 2.471% . . .  and even 9,340%.
Don't let the next one of these cannabis IPOs get away.
Just go here now for my top five IPOs for 2019.
Yours in Profits,
Ian Wyatt