America's second most populous state just legalized cannabis.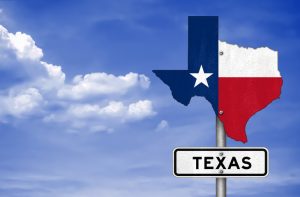 With 28 million people – this opens up a huge new cannabis market. And one "all American" company plans to lead this new market.
Click here now to claim Pre-IPO shares for just $1.25.
Now, I'm not talking about recreational or medical marijuana . . .
Texas Gov. Greg Abbott just signed a bill legalizing cannabidiol or CBD.
CBD has a wide range of uses – including reducing anxiety, helping with sleep and managing pain. And it's found in oils, lotions, coffee, sparkling water and snacks.
One new company is launching a wide range of products at the Vitamin Shoppe and Amazon.com  (go here for urgent details).
Last December, the U.S. Congress passed the 2018 Farm Bill.
That legislation made hemp 100% legal at the federal level. CBD comes from hemp – and the law therefore made it legal as well.
Yet some states including Texas still had to pass laws to formally legalize hemp and CBD.
Passage of the law paves the way for hemp farming in Texas. The state's Department of Agriculture will create regulations for this new industry.
The law also requires stores to register with the state's health department. They're allowed to sell hemp products that contain less than 0.3% THC.
This means that CBD products will be completely legal in Texas. And that'll allow CBD companies to begin selling products in the Texas cannabis market – without risk.
Given the size of Texas, this is big news.
Last year, sales of CBD products in America totaled $591 million.
That's expected to surge 3,623% to over $22 billion within just four years!
Go here to profit from the huge demand for CBD.
Texas currently accounts for 8.7% of the U.S. population.
Proportionally, that means the Texas CBD market could be valued at $1.9 billion per year!
One little-known CBD stock is my favorite way to invest in this trend.
Right now, the company is privately-held. However, that's expected to change within 90-days with the upcoming IPO.
The company makes 31 products. And it already has huge distribution in 3,400 retail stores and Amazon.
This year, the company is expected to generate $12 million in sales. And that could surge to $60 million in 2020.
Right now, you can claim private Pre-IPO shares for just $1.25.
That could turn out to be the deal of the year . . .
Because I'm expecting the IPO price could top $7 per share.
Early investors who secure Pre-IPO shares could quickly be sitting on 460% profits.
Don't wait another minute
Just click here now for your urgent briefing.
Ian Wyatt