The Consumer Electronics Show last week put the spotlight on exciting product announcements and technology's key players. And yes, it generated buzz on all the cool new technologies that you thought would be hits: wearables, drones and Internet of Things among them.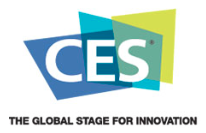 However, CES 2016 also delivered some surprises. Here's a rundown of some of the big winners among CES stocks this year at the Las Vegas event.
Fitbit (NASDAQ: FIT) had the best fitness wearable, however, there's still a lot of uncertainty with where it takes its business model next – especially with the likes of Apple (NASDAQ: AAPL) looking to get more active in wearables.
Meanwhile, Netflix (NASDAQ: NFLX) also appeared to be a winner at CES 2016. Netflix shares surged when its CEO Reed Hastings gave a speech at the conference. Hastings announced that Netflix is expanding its service to another 130 countries.
Just like last year, one of the biggest topics at CES 2016 was virtual reality. Facebook (NASDAQ: FB) again made waves with Oculus; it's allowing pre-orders for its virtual reality Rift headset. But at $600 per headset, it's still a bit price-prohibitive for many.
Top CES Stocks Included Old Tech
For all the things that the new breed of tech stocks are doing, old tech companies are looking to refresh their business models to better compete in 2016. Two winners in this category from CES 2016 are IBM (NASDAQ: IBM) and Intel (NASDAQ: INTC).
IBM is digging deeper into data services and the Internet of Things, where it will play a bigger role in connecting electronics together, such as appliances and fitness monitors. IBM also presented a robot, Pepper, that was running Watson's software. It's the first robot that can understand and interpret human emotions.
Then there's Intel, which is building out chip technology to power drones. In particular, one thing Intel hopes to develop is camera technology to allow drones to avoid obstacles without human assistance.
The Big Winner Among CES Stocks

Perhaps the hottest topic of CES 2016 was self-driving cars. Yet, it wasn't Apple or Tesla (NASDAQ: TSLA) that made waves. The biggest winner isn't even a tech company. It's the $45 billion market cap car maker, General Motors (NYSE: GM).
GM also announced a $500 million investment in ride-sharing company Lyft. Essentially, by investing in Lyft GM is making a big bet on car-sharing and autonomous cars. The plan is to work with Lyft to build self-driving cars. GM wasn't the only car maker making a splash at CES. Ford (NYSE: F) highlighted its partnership with Google (NASDAQ: GOOGL).
For GM, the idea is to make self-driving cars "for rent." It can use its financing ability and connectivity platform, OnStar, to help make car sharing an even bigger market.
But, don't fear, this move into self-driving cars won't hurt GM's core business. Most of GM's profits come from SUVs and trucks, which are used in more rural settings that aren't impacted by car sharing.  
What's more, by investing directly in Lyft, GM gets a leg up on Ford. Ford is still working on developing a ride-sharing service.
GM's big splash at CES 2016 was the unveiling of its 2017 Chevrolet Bolt model. It'll go on sale by the end of the year and will be the first all-electric car in the U.S. with a range of 200 miles while costing much less than a Tesla.  
The Chevrolet Bolt is also built for car sharing, with a large display screen, access to apps and various modes of personalization. The car essentially gets "smarter" the more you drive it and it gives drivers access to cloud data.
From an investing standpoint, GM remains the more compelling company as well. GM shares trade at less than 5.5 times next year's earnings estimates and are paying a near-5% dividend yield.
In the end, we're still years away from self-driving cars. Companies likes GM, making investments for the future, will be big winners when they finally arrive.
This will change your life forever

A new technology is arriving in America right now. It's already transforming numerous industries—and threatening to completely upend many more. Not only does it promise to save countless lives and trillions of dollars, it's also going to make life much, much more pleasant for you. Even better: it can also make you a heck of a lot of money. But you better act fast—it's only a matter of time before this technology reigns supreme, not just here in America, but around the world. Click here now to discover it.