Cree (NASDAQ: CREE) has a bright future ahead after the company reported strong revenue growth last week.
The LED lights manufacturer reported outstanding financials for the third quarter, with sales growing 23% from last year. Moreover, LED lighting sales expanded by 51% during the same period.
Cree maintains that the LED bulb is the biggest advancement in the lighting industry in the last few years. The LED bulb consumes 84% less energy than traditional bulbs while providing a similar level of brightness. Cree expects that its lighting segment will grow from $1.5 billion to $8 billion by 2015.
The positive LED comments helped keep the shares near a 52-week high. The stock is up 136% from its October 2012 low. Though the gain is impressive, the shares could go even higher.
CREE  is riding a powerful ascending trend line (blue line). Except for a brief dip in January (blue arrow), this trend line has provided solid support for the stock since November. The shares are currently near a price level where I expect them to bounce off support. Such a bounce would most likely send the stock above $60 and to another new rally high.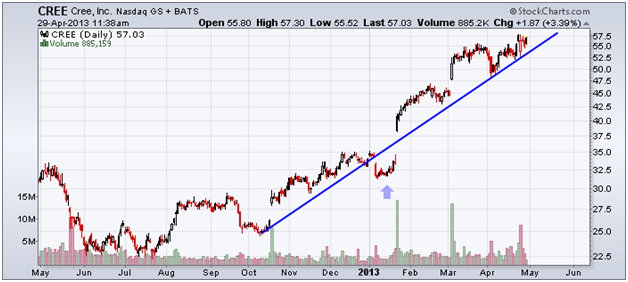 This chart shows the price of CREE shares along with an important support level to monitor.
Any break of the trend line should be viewed negatively. Though the shares were able to bounce back from such a breakdown earlier in the year, I doubt they would recover so quickly now. Not only have the shares nearly doubled since the last breach, the amount of selling volume has been increasing all month, suggesting that the rally will conclude once the stock breaks below the trend line.
LED manufacturer SemiLEDs (NASDAQ: LEDS) also benefitted from Cree's bullish announcement. SemiLEDs may be a better option for new investors because the shares could make it up to $2.50 before encountering substantial selling pressure. We'll save the LEDS chart analysis for another time.
Equities mentioned in this article: CREE, LEDS
Positions held in companies mentioned above: LEDS