On a day in which the Dow Jones Industrial Average opened down more than 300 points, Constellation Brands (NYSE: STZ) shares shot up 5% on Thursday. The stock's huge outperformance was due to a strong Constellation Brands earnings report for the third quarter.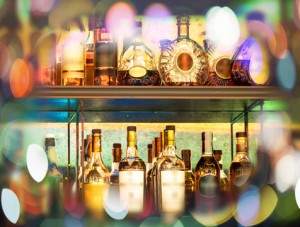 Constellation Brands may not be a household name for investors, but the company holds a large portfolio of household brands. Constellation is a major wine, beer, and spirits company. Its brands include Arbor Mist, Robert Mondavi, Corona Extra, Corona Light, Modelo Especial, Pacifico, Black Velvet Canadian whisky and Svedka vodka.
Constellation Brands stock is on an incredible run, up 40% in the past year alone. By comparison, the S&P 500 Index is down 4% in that time. Here's why investors are toasting Constellation Brands today.
Strong Brands, Resilient Industry
Constellation Brands earnings were boosted by its best global brands. The stock popped because it provided a classic "beat-and-raise" announcement. In the Constellation Brands earnings report, the company said it earned $1.42 in adjusted earnings per share on $1.64 billion of sales for the fiscal third quarter ended Nov. 30. The results easily beat analyst expectations, which called for $1.33 per share of earnings and $1.62 billion of revenue.
On a year over year basis, sales and net income rose 6% and 22% last quarter, respectively, which is an outstanding growth rate in an environment in which investors are increasingly worried over global growth.
Furthermore, Constellation raised its full-year fiscal 2016 guidance. Constellation now expects full-year adjusted earnings of $5.30  to $5.40 per share, and forecast beer sales growth of about 12% to 14%. This was a significant upward revision of its previous forecast, of $5 to $5.20 per share in EPS and net beer sales growth of about 10%.
Demand for Constellation's products continues to grow, especially in underdeveloped markets like Mexico. Constellation's Corona and Modelo beer brands are particularly popular with the growing Hispanic population in the United States.
One factor really helping Constellation in a time of widespread fear and uncertainty is is in a recession-resistant industry.  Consumers tend to buy beer, wine, and spirits, no matter the prevailing economic environment.
Constellation is a fantastic free cash flow generator. Free cash flow for the first nine months of fiscal 2016 totaled $578 million, as compared to $209 million for the same period last year.
Pricey Stock, But Growth Justifies Valuation
Constellation stock has significantly outperformed the broader market over the past year, and as a result, it trades for a lofty valuation. Shares of Constellation exchange hands for approximately 28 times the midpoint of its fiscal 2016 earnings guidance. For comparison, the S&P 500 trades for a forward-multiple in the mid-teens.
Clearly, Constellation is not the cheapest stock around. But the company generates enough growth to justify its valuation. Investors appear willing to pay a high multiple for a premium company with stellar brand strength.
In addition, Constellation pays a $1.24 per share annual dividend, which equates to a 0.8% yield. That is not much of a dividend yield, but Constellation is new to the dividend realm. It only initiated its dividend payment last year. But over time, it should have little trouble increasing its dividend at high rates.
Constellation is growing revenue and earnings at a high rate, which will fuel future dividend growth. Furthermore, it distributes just 23% of its projected full-year profits. That is a very low payout ratio which also leaves plenty of room for future increases.
As a result, Constellation could be a very strong growth stock, with the dividend as a nice kicker to its total return potential.
You Could Collect Dividend Income Every Month!
We've put together a simple calendar that pulls together all the market's best dividends into a single, easy-to-read document. One look, and you'll be able to set up a 12-month dividend stream for regular income every month.
Click here to see the full details.