The stock market is off to a rocky start this year. Both consumers and businesses appear to be reining in spending due to the strong dollar and steep drop in oil prices, which are negatively impacting exports. This has spooked much of the market – but it could be presenting some buying opportunities.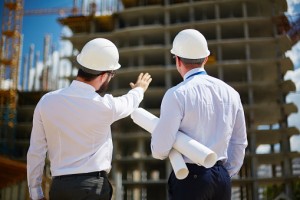 Specifically, construction appears to be one of the few areas of the market that might continue to do well in 2016.
Relatively low interest rates and years of pent-up demand are helping keep construction spending elevated. For example, KB Home (NYSE: KBH) has been seeing the highest traffic levels per store that it's seen in years. Overall construction spending has been growing across the country – namely in the Sun Belt region, the South and the West.
But digging deeper into the construction industry, one area of that market that's getting overlooked is dividend payers. The dividends in the construction space aren't ridiculously high. They're just low enough to fly under the radar.
With that in mind, here are the top three construction dividend stocks for 2016:
Masco Corp. (NYSE: MAS)
Masco is a play on the U.S. housing recovery. About 80% of its revenues come from its residential repair and remodeling business. It's an interesting market that's still in the early to middle innings and has helped Home Depot (NYSE: HD) have a massive run over the last few years.
Masco offers a 1.5% dividend yield and is paying out just 30% of its earnings via dividends. It spun off its building products installation business to focus on just making the products. This also helps take out the cyclicality of its business and adds even more security to the dividend.
Martin Marietta Materials (NYSE: MLM)
Martin Marietta Materials offers a 1.2% dividend yield and is paying out 33% of its earnings via dividends. Its dividend is backed by a relatively strong balance sheet.
The real beauty here is that the permitting process is difficult for new quarries, thus generating some impressive barriers to entry. You also have to appreciate Martin Marietta Materials' sizable footprint in Texas and California, which are the two of the largest consumers of aggregates and cement in the U.S.
The big underrated driver for Martin Marietta Materials is the public sector, which makes up about half its shipments. Construction doesn't tend to be susceptible to partisan politics, and with funding from government sources, this part of its business is stable. But Martin Marietta Materials is also still benefiting from the growth of nonresidential construction.
Owens Corning (NYSE: OC)
Owens Corning is a maker of fiberglass insulation, roofing shingles and composite materials, which makes it a solid play on the continued strength in the construction market. It also has some impressive competitive advantages in its roofing business, where most of its competitors are smaller and lack scale.
Owens Corning is paying out a 1.4% dividend yield. It's only paying out 29% of its earnings via dividends. One of the more overlooked angles for Owens Corning investors is that the company has a sizable amount of net operating losses that will keep its tax rate down for the next few years – meaning more cash to be funneled to the dividend.
Most investors only consider the homebuilders or large equipment makers when thinking of the construction market. However, there are a number of small- and mid-cap stocks that could be much better plays on the rise in construction spending.
The three stocks detailed above fit that "better plays" mold and also offer solid dividends that should grow along with the companies' share prices.
For more companies that continue to grow their dividends along with their stock prices, click here.