Many companies are in a fight for survival due to Covid-19, and their stocks have been hammered.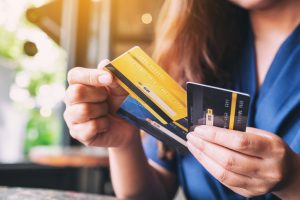 Other companies thrived, and their stock prices soared. That spells big profit opportunity for savvy investors . . . like the $840 profit you could have earned literally overnight last week in a Dow blue chip.
Click here to find out how.
One group of mega-cap financial stocks have not only survived but thrived. I'm talking about the giant credit card processing companies like Visa Inc. (V) and MasterCard (MA).
And if you think about it for a moment, it makes perfect sense why these thriving based on their credit cards.
This business is nearly a monopoly. These two companies alone account for 73% of total U.S. credit card volume. Some $2.76 trillion was charged to credit cards issued by either Visa or MasterCard in 2018.
The fees they charge on every single transaction really add up. It is a  lucrative, recurring business. And these two companies have a hammerlock on it.
While the pandemic did cause a sharp slowdown in transactions for credit cards, it was only temporary.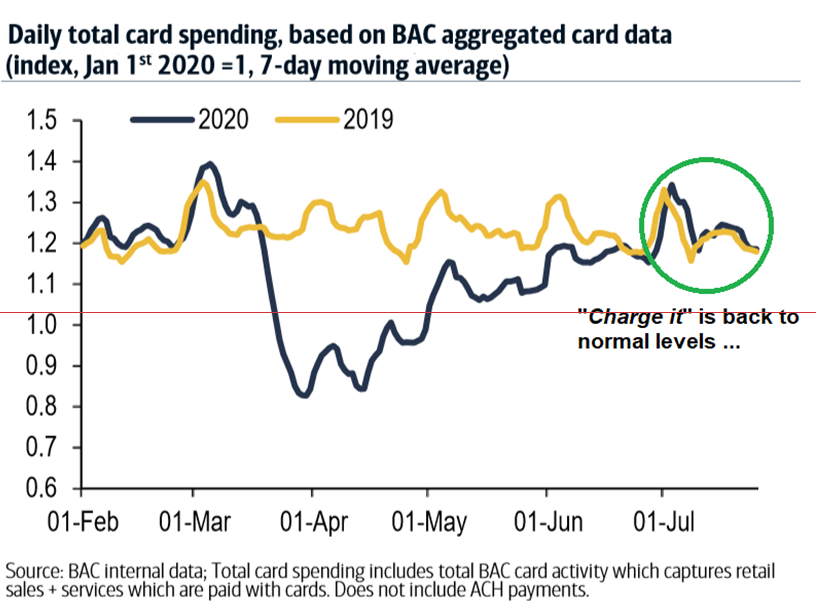 As you can see in the chart above, total daily spending on credit cards in the U.S. has fully recovered. It has been tracking with normal seasonal spending patterns since mid-June.
Visa and MasterCard are back to earning a king's ransom worth of fees.
Last week you could have reaped easy OVERNIGHT gains of $840 from Visa  . . . and we have the track record to back it up! Go here to find out how.
It's not just Dow blue chip Visa that's paying out big gains recently. Two other iconic blue-chip stocks in the Dow Jones Industrial Average also threw off nice "special dividends."
You could have collected $710 from JPMorgan Chase (JPM) and $1,270 from the Walt Disney Co. (DIS). In fact, DIS shares offered another big payout today.
These payouts are thanks to a special earnings-season trading strategy with an impressive track record of success. In fact, with Visa's $840 payout, the probability of success was a whopping 86%.
It doesn't get much better than that in today's volatile market.
My colleague, Andy Crowder, developed this earnings season strategy. And since 2017 he's up 826.1% on his overnight trades, beating the S&P 500 33-to-1 in the process! You'll find all the details here.
This could very well be the easiest and safety way to earn big profits in today's stock market. But earnings season will be over in just a few weeks.
Go here to find out how to earn quick overnight gains of $710, $840 or even $1,270, before it's too late.
Good investing,
Mike Burnick