One Canadian cannabis company is booming!
The stock just reported an explosive 120% increase in sales.
Shares have been roaring higher in the last two years.
Click here to earn bigger profits from your "pot stocks."
The company is Cronos Group (NASDAQ: CRON). And for the past two years, I've been a shareholder.
Back in April 2017, I issued a BUY ALERT and bought Cronos Group shares at just $1.97.
For the few months – the stock price fell. But I'm a patient investor – and wasn't bothered by the decline.
By the end of the year, Cronos Group had topped $6 per share. But that was just the start . . .
Click Here for Even Bigger Cronos Profits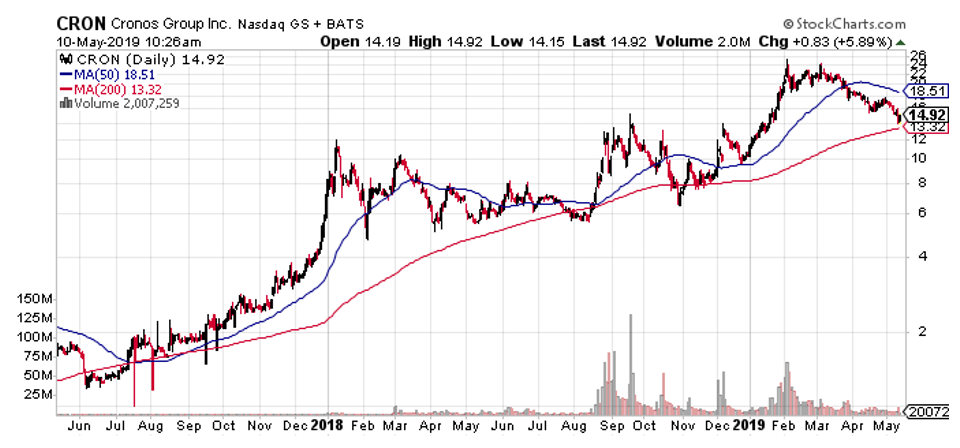 Earlier this year, the stock topped $25. And that was enough to give me a max gain of 1,174%.
Now, shares have since pulled back to $15. But I'm still sitting on a 659% return in just two years. And I bet Cronos Group shares will be hitting new highs within a few months.
Want to make even bigger gains – when Cronos stock jumps again?
Click here to multiply your "pot stock" profits.
Cronos Group just reported a great quarter.
The company's $6.5 million in quarterly sales was a 120% increase. Meanwhile, the company's cost to produce one gram of cannabis fell by 14%.
The biggest news for Cronos Group was a big strategic investment.
Altria Group (NYSE: MO) – maker of Marlboro cigarettes – invested $2.4 billion in Cronos.
The deal gives Altria a 45% ownership stake in Cronos. Plus, Altria has the right to purchase another 10% of Cronos – giving it a controlling interest.
That news helped Cronos shares double in just two months! Plus, the large cash investment secures the company's position as a market leader.
I'm holding onto my Cronos Group shares – and waiting for the next move higher.
Go here to multiply your Cronos profits – starting today.
Yours in Profits,
Ian Wyatt