Pot stocks have been red-hot for the last two years . . .
And Cronos Group (NASDAQ: CRON) is among the very best-performing stocks.
Less than two years ago, I bought Cronos stock at just $1.97 a share. Fast-forward to today. . . and Cronos stock recently topped $25 a share – for a 1,169% profit!
Want to know the "next Cronos" for huge profits?
No guarantees . . . But I'd bet it's one of these three stocks.
Click here for urgent details – it's the #1 trade for 2019.
Check out this chart of Cronos stock.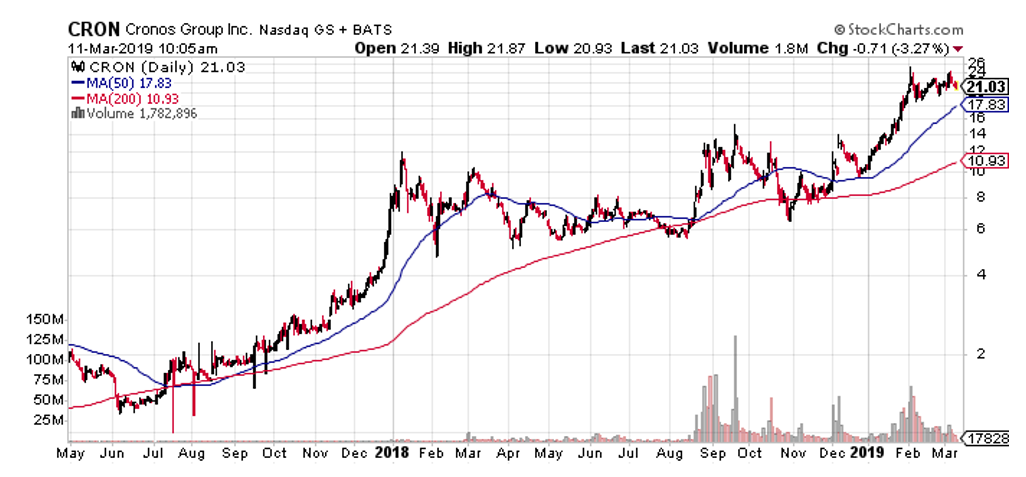 Despite falling 57% right after I bought Cronos stock . . .
Cronos has surged and become my #1 stock for the last two years. And it recently got a big boost in December.
Less than three months ago, shares were trading around $10.
That's when Altria (NYSE: MO) – the world's #1 tobacco company – announced a deal with Cronos.
Altria – formerly known as Philip Morris – would invest $1.8 BILLION for a 45% ownership stake in Cronos. It was big tobacco's way of jumping into legal cannabis.
Now, I've been riding the legal cannabis wave for two years. And I've earned some juicy gains along the way.
Don't worry . . . In 2019, I expect expansion of legal cannabis to continue state-by-state in the U.S. And "pot stocks" should perform nicely.
However, the huge profits for BIG cannabis stocks like Canopy Growth (NYSE: CGC) and Cronos Group are probably in the rear-view mirror.
So, what's the next big opportunity?
393% Profits from the #1 Trade for 2019 (click here now)
Well, after spending the last 11 months researching one tiny and overlooked asset . . .
Waiting for the perfect timing . . . and "confirmation" from the market . . .
I'm ready to jump in right now.
You've probably heard me describe this as my #1 big trade for 2019.
Now, I'm expecting the price of this asset could jump 393% from recent levels. And a small group of stocks could surge even more.
During the last bull market, one of the WORST-PERFORMING stocks jumped 1,233% (click here for the name of this stock).
Others did far better – including quick profits of:
Those are big numbers . . . but what do they mean? Well, if you'd invested only $1,000 in each of these stocks . . .
You'd be sitting on $195,270 just a few years later.
Those are remarkable – and life-changing – profits.
I've never seen a more attractive trade in the 18 years since I founded Wyatt Investment Research.
Are you ready for 393% profits starting April 1?  Even though I've earned a fortune in cannabis stocks, this situation could be even more profitable.
Go here now for urgent details.
Yours in Profits,
Ian Wyatt