Earlier this year, the venerable AT&T (NYSE: T) was kicked out of the famous Dow Jones Industrial Average to make way for Apple (NASDAQ: AAPL). While this change in Dow stocks is seemingly innocuous on the surface, it raises several important questions for investors and the media, since far too much focus is placed on the average.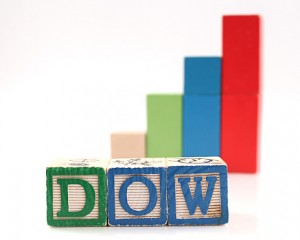 With only 30 stocks, the Dow is hardly a proxy for the overall market, given that there are thousands of stocks and ETFs available. Still,  it has a massive psychological hold on investors. It's the first financial news reported in every segment having to do with investing. It's an overall barometer of market health, and whether times are great or if there's a crash occurring.
So as much as we may want to dismiss the Dow, it's here to stay. Consequently, it really should represent the economy as broadly as possible. It should also represent leaders in any given sector. Does the current index do this, or is it time to make a few other changes?
Dow 30 Stocks That Don't Fit
Let's take a look at a few stocks that just don't seem to make sense anymore.
For all the pressure back in 2009 to include Cisco Systems (NASDAQ: CSCO), the company isn't really what I'd consider a mover and shaker in the economy, although it is within its sector. It's a big name for the Internet, but its growth has stalled and it's kind of a sleeper stock. Not that a Dow stock has to be a big growth play, but I see Cisco as becoming a bit stodgy.
I know this would be controversial, but I would replace it with Amazon.com (NASDAQ: AMZN). While Amazon isn't an Internet infrastructure play, it has become the world's greatest retailer and has its hands in technology. In fact, if you are angry with me for suggesting Cisco, then we can agree instead to kick out Wal-Mart (NYSE: WMT) in favor of Amazon.
DuPont (NYSE: DD) needs to go. Yes, the chemicals giant is a piece of American history and an incredible success story, but the mold is growing on this ancient company. It struggles to remain competitive, its profits are falling, and while certainly relevant to its sector, I don't think it is much of a contributor to the notion of a vibrant economy.
In its place, I would put Monsanto (NYSE: MON), also in the chemicals and basic materials business. Monsanto is a forward-looking company that is doing extraordinary things on a global basis. While not an exact replica of Dupont, we don't want it to be. The Dow should be made up of companies that are relevant today, and will be even more relevant tomorrow.
Imbalances in the Dow
Then we have far too much weighting in pharmaceuticals and consumer products. The Dow does not need all four of these: Johnson & Johnson (NYSE: JNJ), Procter & Gamble (NYSE: PG), Merck (NYSE: MRK) and Pfizer (NYSE: PFE).
I think the Dow should dump either Johnson & Johnson or Procter & Gamble. I think that since J&J is the more diversified company, we should get rid of P&G. Both are moribund in terms of growth, but both are central to the economy and the sector they play in. If Pfizer gets broken up, which is possible, it may go away, also.
I think a good replacement is Novartis (NYSE: NVS). This is a vibrant and gigantic biotech company with global reach. It has its hands in plenty of great new things, such as biosimilars.
It looks like there are several changes that need to happen in the lineup of Dow 30 stocks. These are the companies I would look at carefully for the index's future – and your future portfolio.
Worry-Free Riches
They're owned by some of the wealthiest people on the planet. They share a few key similarities that distinguish them from 99% of equities. Even as the S&P keeps breaking record highs, they're still crushing it. In fact, over the last ten years they've outpaced it by a colossal 390%.