As you can see in the graph below, it's another  busy week for earnings releases.
And it is chock-full of overnight profit opportunities … like the 31.8% gain you could have just bagged in Microsoft Corp. (MSFT) in LESS than 24 hours.
Click here now to find out how and start cashing in.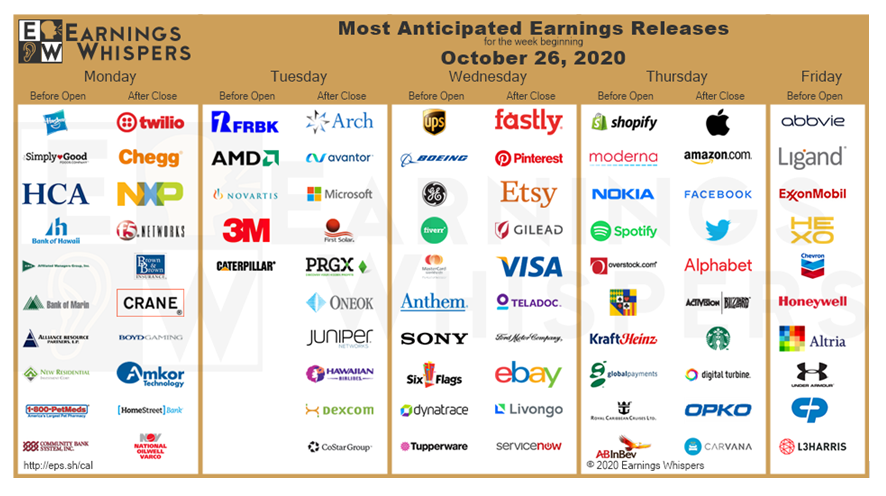 We are approaching the peak for S&P 500 sales and earnings releases right now. That means consistent profit opportunities to cash in with a proven Earnings Season Strategy that has turned quick profits 87% of the time, with cumulative gains of 222.4% this year alone.
So far, S&P 500 companies are hitting the cover off the ball. In fact, 84% of companies that have made earnings releases so far are beating Wall Street estimates. Crushing it is more like it.
On average, these companies are posting profits that are 17.2% above analyst estimates. That's near all-time record positive surprises.
In fact, that is more than THREE TIMES the average profit surprise reported over the last five years, which is only 5.6%.
This tells me Wall Street analysts are underestimating the profit comeback potential of corporate America.
Still on the calendar this week are some big technology heavyweights. These  include  . . .
com, Facebook and Starbucks on Thursday, and . . .
Abbvie, Honeywell and Chevron on Friday
These blue-chip stocks, plus many more companies, are reporting results this week and next. This creates plenty of quick, overnight profit opportunities for you with this earnings season strategy.
Just like the 31.8% overnight gain you could have earned today in Microsoft.
The beauty of this proven strategy is this: No matter if a stock beats earnings estimates, or falls short, this strategy still pays off with gains 87% of the time.
My colleague Andy Crowder developed this earnings season strategy specifically to profit from the wealth of rich profit opportunities during earnings reporting season.  This strategy is up an incredible 224.4% this year alone.
Andy gives you all the details in his upcoming webinar. In it, you'll see how you could have turned $5,000 into $2.5 million.
Click here for all the details.
Good investing,
Mike Burnick