Earnings season is now in full swing. As a result, the opportunities for earnings season trades are plentiful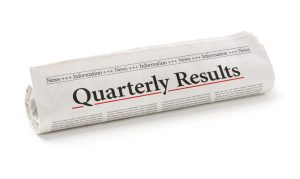 .
So far, during the early part of this earnings season, we've managed to place two earnings season trades (Goldman Sachs and American Express). Both were winners. Our returns since we started the portfolio three years ago stands at 869.5%.
Go here to see how this can earn you triple-digit gains.
But I'm not here just to dwell on the past.
I have a few trades on the agenda for next week and today I want to focus on one specific earnings play: Visa.
Visa releases its earnings report after the bell on Wednesday . . . and I plan on making this earnings season trade detailed here.
Best part about the earnings season trade is that I don't care about the numbers that are released. I don't care about EPS, revenues . . . any of it.
My earnings season trades are based on a quantitative approach . . . an approach based on hard statistics.
The trade is purely mechanical, based solely on what the market is telling me at the time.
Now I can see that you may be scratching your head right now, asking yourself, what is he talking about? What does the market tell us about Visa that makes this trade so interesting?
Well, it's something called the expected move or expected range. The market gives  us this information in real-time and it is a wonderful way to lay the foundation for all of your trades, now and certainly in the future.
Here is the expected range for Visa.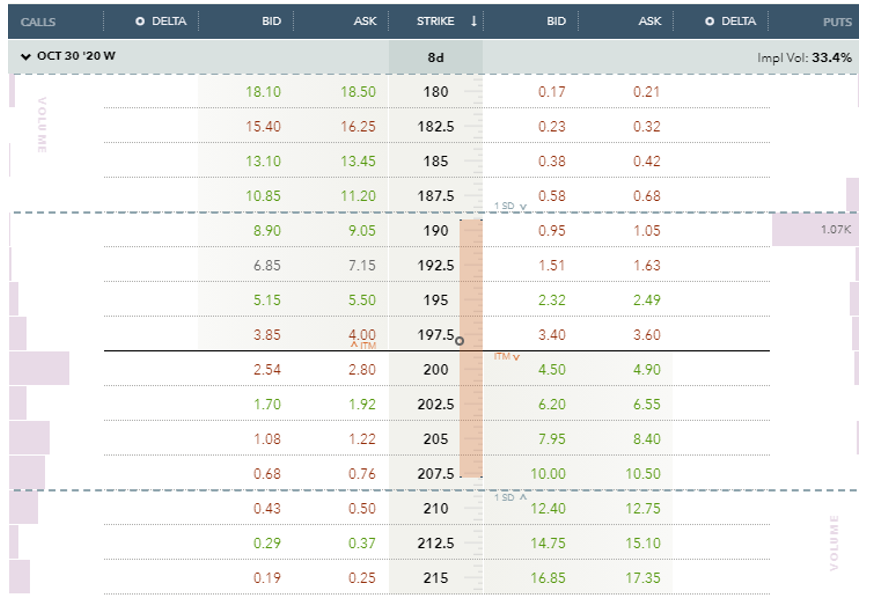 You see, the expected move, as highlighted in the peach-colored vertical bar above,  tells us that the market expects Visa to trade within the highlighted range of roughly $190 to $207.50 through Oct. 30.
What most investors and traders alike don't realize: 80% of stocks stay inside their expected range at the expiration. That's right, 80%.
Since we know this fact, the expected move allows us to create an easy range-bound trade based on probabilities. It's also what has allowed us to reap consistent returns, earnings season after earnings season, for the last three years.
Now, my preference when I'm placing earnings season trades is to use a high-probability approach. I like to select these trades that have probabilities above 80%.
So again, since the expected range of Visa is between $190 and $207.50. I want to place a trade, with an 80% probability of success or higher, while still bringing in an adequate amount of premium. Again, these are easy, straightforward trades to place. You just have to follow the mechanics.
Now, let's go back to the probabilities.
As you can see in the images below, if we choose strikes outside of the expected range, the probability of profiting with our trade is 89.57% on the high end of the range and 89.78% on the low end of the range.
Call Side (upside):

So overall, our probability on the trade is over 89%. Not bad. And our potential return . . . roughly 25%. And remember, this is for a one-day trade.
On Wednesday I WILL be placing a trade in Visa. If you want to see how I trade Visa and how you could potentially make 25% next Wednesday, click here to register for my upcoming webinar. I will be going over all the mechanics of the trade, including the exact strikes, price and more.
See you all there!
Good trading,
Andy