David Einhorn is making 2016 an active year.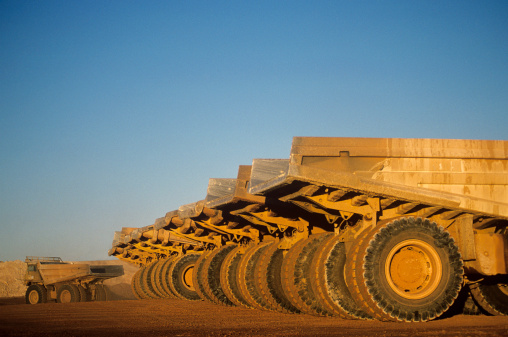 Einhorn's Greenlight Capital dumped almost half its Apple (NASDAQ: AAPL) stake during the fourth quarter and bought a stake in beaten-down companies like Macy's (NYSE: M) and Mylan (NYSE: MYL).
And while Einhorn was short major technology companies in 2015, he's more recently been shorting U.S. oil companies, such as Pioneer Natural Resources (NYSE: PXD).
But now Einhorn is shorting heavy equipment companies as a way to bet against commodity prices.
There are certainly some headwinds on the horizon that will put further pressure on commodities, including the slowing growth in China and resilience of OPEC nations against cutting production.
With that, the recent slide in commodity prices could well last for much longer than many are expecting. And it's not just oil prices – the likes of iron ore, coal, copper and other raw materials are all a multi-year lows. This fallout has hurt nearly every company with exposure to the commodity space – especially the equipment makers.
What Could Einhorn Be Shorting?
Einhorn hasn't laid out which heavy equipment stocks he's short, but there are some obvious choices.
First up is Deere & Co. (NYSE: DE), which is a maker of construction and farm equipment. Deere is a Warren Buffett favorite, but it's also not likely one of the stocks Einhorn is shorting. That's because Deere is more of a play on the agriculture market and generates most of its revenues from within the U.S.
A more obvious choice is Caterpillar (NYSE: CAT), which generates just under half of its revenues from coal mining. Jim Chanos, famed short seller and hedge fund manager at Kynikos Associates, is already short Caterpillar – and has been for years.
The key for Caterpillar is that it's heavily tied to China, which might be slowing economically. Caterpillar, trading at 19 times earnings, is also expensive from a valuation perspective compared to its peers.
There is also Joy Global (NYSE: JOY). Its stock is down 70% over the last year and it is highly levered to the mining business. Nearly three-quarters of its sales are from equipment for coal mining. Its valuation is even more stretched than Caterpillar, trading at over 23 times next year's earnings estimates.
Joy Global gets a lot of its revenues from within the U.S., where the shift away from coal is occurring the quickest. But clean power and renewables are gaining traction across the globe. Exxon Mobil's (NYSE: XOM) 2016 energy outlook has coal-generated electricity falling from 40% of world demand to 30% over the next 25 years.
Einhorn's Commodity Bet
Despite being negative on commodities, there is one area Einhorn is bullish on. Late last year,  I noted that Einhorn's Greenlight Capital was still buying up shares of coal and natural gas company Consol Energy (NYSE: CNX).
Greenlight owns more than 10% of Consol shares and notes that the market is misunderstanding the dynamics of the company. Einhorn is bullish on natural gas as a whole and says Consol is one of the lowest-cost producers.
Einhorn is also betting that low oil prices will be a boon for his holdings within the consumer discretionary sector, such as Michael Kors (NASDAQ: KORS). Einhorn also owns shares of Apple (NASDAQ: AAPL), Macy's (NYSE: M) and General Motors (NYSE: GM) – all of which should benefit from low oil prices.
In the end, the safer of Einhorn's plays is his thesis that low energy costs will be a tailwind for consumer discretionary stocks. The end markets for the likes of Caterpillar and Joy Global look weak, and investing solely on commodity prices isn't a sound investing strategy.
How to Sleep Easy at Night
Is the economy keeping you up at night? Do you worry there's another crash just around the corner? If so, you can stop worrying right now. All it takes is a few minutes.