U.S. stocks are overvalued and it's been a heck of a bull market for nearly a decade. We've seen almost nine straight years of consecutive gains in the S&P 500.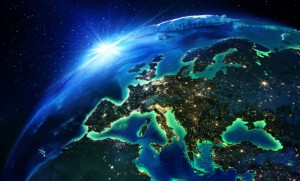 Most companies are trading at above average valuations and the S&P 500 trades at nearly 26 times earnings. That is the highest we've seen since the financial crisis, and well above its historical average of 16 times.
But investors do have options. One of them is going to all-cash. However, in cash, investors will miss out on future gains. In addition, cash offers no yield and investors lose money when factoring in inflation. Then there's the fact that if you hold all cash, you're betting that you'll get back into the stock market at the best time . . . a bet you'll lose 99 percent of the time.
Meanwhile, there are better options than going to all-cash or settling for low-yielding fixed income assets. That is, stocks in markets outside of the U.S. look enticing these days.
The euro crisis that started in 2010 has scared away many investors. However, Europe is cheap for investors and European dividend stocks are attractive now. The Euro Stoxx 50, which tracks the 50 largest companies in Europe, trades at a near 35% discount to S&P 500. U.S. investors have over 80% of their stock portfolios in U.S. stocks and many will miss Europe's comeback. Don't overlook a key opportunity.
Here are the top three European dividend stocks for this market:
European Dividend Stocks: Nestle SA (OTCMKTS: NSRGY)
Nestle, the largest packaged foods company in the world, is being targeted by activist investor Daniel Loeb. His Third Point hedge fund believes there's a big opportunity at Nestle to improve margins. The company has been underperforming major peers on the profit margin front.
Nestle shares already pay a 2.25% dividend yield and recently Nestle said it plans to buy back up over $20 billion in stock over the next couple years.
Nestle can easily leverage its position in emerging markets to grow as income levels continue to rise there. Its new CEO since January, Mark Schneider, has shown a commitment to optimizing the Nestle brand portfolio by selling off underperforming brands. With that, Nestle has a few catalysts to "fix" its cheap valuation.
European Dividend Stocks: Novartis (NYSE: NVS)
Novartis is a European health-care products company, but it's been an underperformer. Novartis shares have been flat over the last year. Meanwhile, some of the major drug makers in Europe continue to underperform after failing to come up with new drug lines. Novartis' stock has been hit especially hard amid its weakness in the eye-care business and an investigation in the U.S. for alleged marketing abuses.
But Novartis pays a 3.3% dividend yield and has a potential catalyst to boost the stock price. It has nearly $40 billion in cash and a strong balance sheet. That means it's primed to make a major acquisition. The company is looking to target the fast-growing oncology market. That means the likes of Bristol-Myers (NYSE: BMY) or Celgene (NASDAQ: CELG) could be on the company's radar.
European Dividend Stocks: Unilever (NYSE: UL)
Unilever, like Nestle, is a consumer staples giant with brands like Dove, Axe and Ben & Jerry's. It has a strong brand portfolio and is relatively cheap. Kraft Heinz (NYSE: KHC) attempted to buy the company earlier this year. However, Unilever believes it can create more value for shareholders as a standalone company; it rejected the offer.
Unilever could easily find itself considering a breakup if shares start to lag. Or, the more likely path is that Unilever pursues a mega-merger on its own terms. It could even look at teaming up with another major European brand, such as Nestle. In the meantime, Unilever pays shareholders a 2.3% dividend yield.
While U.S. appears expensive, investors shouldn't settle for underperforming assets like cash or bonds. Instead, look for select opportunities in overseas markets, notably Europe. That's where investors can find cheap dividend-paying stocks like the three above.
Save
Save
Save
Save
Save
Save
Save