The economy is on shaky ground.
That means your dividends are, too.
Here's how to shore them up with Liberty Vouchers.
While U.S. economic indicators have turned positive following a spike in existing home sales and a drop in jobless claims, the fact is that our economic outlook is a bit of a mixed bag.
Otherwise the Fed wouldn't have cut rates this week, putting another pinch on savers to stimulate the economy and stave off the next recession.
If you've been saving diligently and depend on your portfolio for retirement income, that's not great news. The graph below shows the S&P 500's rate of dividend growth going back to 1990.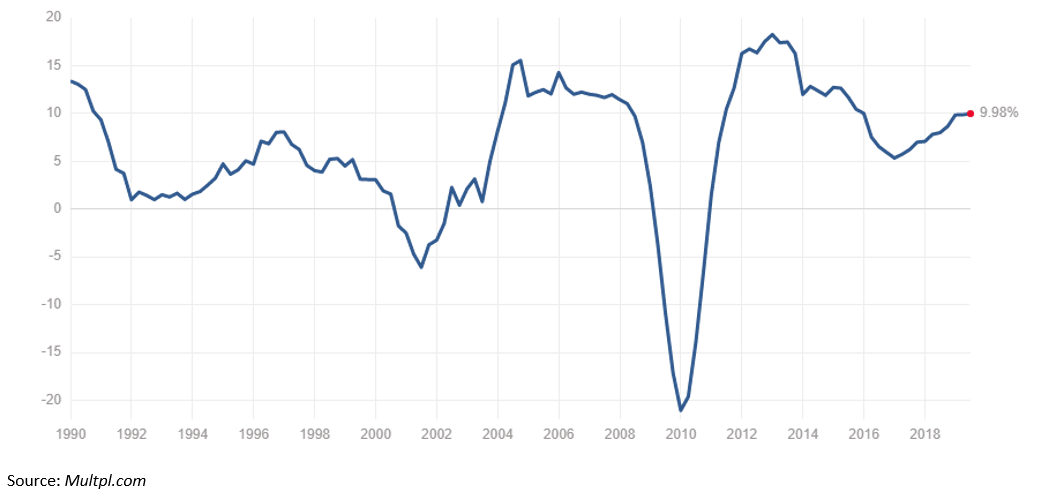 When recessions hit, dividends don't grow.
In fact, they shrink. They shrank by more than 20% during the depths of the last recession.
So, if you depend on your stocks to generate enough income for your retirement or any need, that just doesn't happen during a recession.
And positive economic indicators be damned, the Fed is obviously worried about a recession, otherwise it wouldn't be cutting rates. The only reason to do that is to try to put off the next recession.
The good news is that our Liberty Voucher program can see you through any recession.
Right now, you get to have vouchers worth $1,173 showing up in your mailbox every 20 days.
If, like the Fed, you're worried about the next recession, you have two options.
You can load your portfolio up with stocks like Procter & Gamble (NYSE: PG), PepsiCo (NYSE: PEP) or Dollar General (NYSE: DG) that whether recessions well. All of these yield less than 3% (just 0.8% in the case of Dollar General).
You could get used to living like a pauper for now, I guess.
Or, you could click here now to learn how to take control of your financial future, recession or not.
Our Liberty Voucher program works through good economic times or bad, landing vouchers in your mailbox roughly every 20 days. And if you take the required steps now to lock them in, you'll collect them through thick and thin.
Just click here to sign up for our free briefing on Liberty Vouchers.
Here's to Profits,
Ben Shepherd