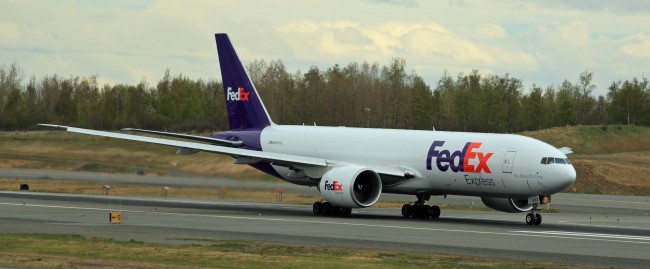 FedEx (NYSE: FDX) is truly a bellwether of the global economy. Having stolen massive market share from the USPS, FedEx and its competitor United Parcel Service (NYSE: UPS) now control about 81% of the shipping market.
Thus, these two big cats will tell investors a lot about the functioning and underlying health of the economy. If things are good, consumers and businesses order lots of stuff. That stuff has to be shipped, so volume should increase. As volume increases, pricing power increases. As pricing power increases, earnings should get better. Setting aside capital expenditures, net income should also increase.
Of course, the opposite is also going to be true.
Now, UPS did very well in the fourth quarter. It delivered 1.3 billion packages, which was up 1.8% for the quarter. Revenue rose 2.6%. Earnings were complex due to pension mark-to-market changes and tax credits, but growth is pegged between 7% and 11% for 2016. So the implication is that the economy is growing very slowly, but UPS' growth is in solid "stalwart" stage.
The FedEx earnings report said the company generated $6.55 billion in revenue, but that was a decline of 1% over last year. That's because FedEx has been pulling back on its fuel surcharges, and because the strong dollar reduces the value of transactions that occur in foreign currency. Domestic shipping volume increased 2%, which is indicative of very modestly growing economy.
Operating profit at FedEx was $594 million, which is an almost 50% increase from last year. The huge increase is obviously not the result of a mere 1% revenue gain. It came from big cost cuts.
FedEx Ground saw terrific volume increases, about 10.9%. That led to a huge 30% increase in revenue to $4.39 billion. Still, it's a bit misleading because the company made an acquisition and included that company's  revenues in the quarter.
Unfortunately, FedEx got caught flat-footed by underestimating shipping volume for the quarter. That results in excess costs, as the company has to rejigger its logistics. That crushed operating income, knocking it back from last year by about 50 bps to $557 million, but margins fell to 12.59% from 16.49%.
FedEx Freight only saw a 1% revenue increase, and 16% decline in operating income because benefit increases outpaced volume growth.
FedEx Earnings and the Amazon Factor
There's some other disconcerting news. Amazon.com (NASDAQ: AMZN) just struck a deal with Air Transport Services Group (NASDAQ: ATSG) to lease up to twenty 767 aircraft to ship stuff. That could mean Amazon shipping as much as 15% of its merchandise annually through ATSG. But here's the kicker: Amazon also got warrants to purchase 20% of the company.
That tells me Amazon wants to eventually dump UPS and FedEx and control its own distribution. That's why I think the weak revenue growth at FedEx plus this development suggests that investors think carefully about buying into FedEx at 14 times earnings, even though that's a fair value for the stock.
I still think FedEx is a stellar company and its financials are top-notch. However, when the world's top retailer starts flirting with another distribution company altogether, one wonders when the bottom of that relationship falls out.
One Fat Check Deserves Another!

What's the only thing better than receiving one fat dividend check? Receiving multiple fat dividend checks, one right after another…every month…all year long. Imagine having something like this to look forward to throughout the entire year. THAT'S what you call peace of mind! Click here to get started.