The term is "financial repression."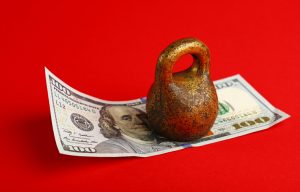 It refers to the strategy government operatives use to reduce your income for their gain.
Protect your investments from financial repression. Click here to get 10X more income starting Aug. 8
President Trump and the Federal Reserve are government operatives. They conspired this past week to use financial repression on you.
First, it was the Federal Reserve.
The U.S. central bank lowered the federal funds rate by 25 basis points on Wednesday.
This was a big deal. The fed funds rate – an influential overnight lending rate – was already low. The effective rate was 2.4% before the rate cut. It's 2.14% today.
So, what does the rate reduction mean to you?
Even less income from conservative income investments.
You might still remember the glories of 20 years ago when real interest rates prevailed.
Guaranteed certificates of deposits offered yields of 5% to 6%. You could have bought a 10-year U.S. Treasury note to yield 6.5%. You could have even received a 2% yield on a very liquid money-market account.
Fuhgeddaboutit.
You might get 2.5% on a five-year CD if you shop around. A 10-year Treasury note is priced to yield 1.9%.
That liquid money-market account that paid 2% at the turn of the millennium pays only a couple basis-points in 2019.
What's more, these yields are more likely to fall than to rise. President Trump offered the closest thing to a guarantee that yields will fall.
Trump stunned market participants on Thursday by escalating his trade war with China.
Trump announced that he would subject roughly $300 billion of Chinese goods to tariffs that had not already been subjected to tariffs. Starting on Sept. 1, all Chinese goods entering the United States will be slapped with a tariff.
Lower interest rates have been Trump's goal for the past year. His tariff announcement this week ensures they will remain low.
The president's and Fed's respective actions this week invoke images of a WWE tag-team wrestling match.
It's you, the president, and the Fed against the obstacles to your prosperity. Your putative teammates motion for you to extend your hand so that they can tag it. Instead of a tag, though, they betray you and deliver a cold-cock punch to the side of your head.
When the Fed began to raise interest rates three years ago, it offered income investors hope that they could retreat from the riskier end of the risk curve for legitimate income.
Those hopes have been dashed.
If you want legitimate income that empowers you to beat financial repression, you'll have to stay with riskier investments – stocks, MLPs, REITs, and lower-credit bonds.
The good news is that you have an even more powerful tool.
Liberty Checks offer you the opportunity to collect 10x more income with no more risk than what's embedded in an established dividend-paying stock.
These Liberty Checks are paying $1,197 every 21 days on average.
You can claim even more if you act now.
Starting on Aug. 8, you can claim two Liberty Checks totaling $3,081.
Claiming your Liberty Checks couldn't be easier. All you need to do is add your name to our list.
The price is right. It's FREE, but space is limited.
Good Fortunes,
Stephen Mauzy