China stocks are really feeling the pressure from the potential China economic crash. The Shanghai Composite Index has fallen 36% in just three months.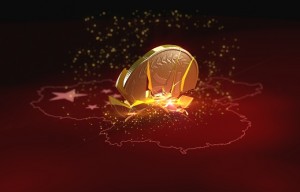 But so far, the fallout from China and a potential economic slowdown hasn't fully registered in the U.S.
When I took Brazil to task last month, calling it a "China in waiting, " I alluded to the fact that there are a number of U.S.-based companies that generate more than half of their revenues from China. If China is indeed experiencing a slowdown, these companies could be in store for a lot of pain.
Last week, the China's manufacturing sector fell into the worst slump in three years; the Purchasing Managers' Index there fell to its lowest point in three years. The data coming out of China implies that the world's second-largest economy isn't experiencing just a near-term hiccup in growth, but that it could be heading for an economic crash.
With that in mind, let's take a look at five global stocks to avoid until we have more clarity on the extent of China's economic slowdown.  
No. 1: Skyworks Solutions (NASDAQ: SWKS)
The maker of radio-frequency chips for smartphones faces a lot of competition. It's one of the smaller players in the industry and is seeing larger players, like Qualcomm (NASDAQ: QCOM), muscle in on its territory, specially in the radio frequency space.
But the real issue is that Skyworks generates over 80% of its revenues from China. And one of Skyworks biggest customers is Apple (NASDAQ: AAPL), which generate between 15% and 20% of sales from China. A slowdown in China could have a negative impact on Apple, which further pressures Skyworks.
No. 2: Yum Brands (NYSE: YUM)
Yum has a large presence in China via its KFC restaurants. The company generates over half its sales from the country. It's already been under pressure due to food safety concerns there.
One of the key catalysts for the stock is that the company is planning to shift toward a franchise model in China, where it currently owns the majority of the stores. However, the economic slowdown in China will strain access to capital for the franchisees and put on hold any plans by activist investors to split up the company.
No. 3: Expeditors International of Washington (NASDAQ: EXPD)
This shipping company generates about a third of its revenues from China, where it's a key player in the North America and Asia trade lanes. Less economic output and demand from China means less freight shipped.
The slowdown in Europe isn't helping either. Overall, the slowdown in international air and ocean shipping isn't good for Expeditors International – which is already facing competition from larger players like FedEx (NYSE: FDX). FedEx and other large shippers are looking to grow their businesses even more by moving in on Expeditors International's outsourced supply chain business.  
No. 4: Mead Johnson Nutrition (NYSE: MJN)
This infant formula maker also gets a third of revenues from China, and a hefty 70% from Asia and Latin America combined. On the surface, a slowdown in economic activity in China doesn't look to be negative for Mead Johnson, where families have babies regardless of the economic backdrop.
But what a China slowdown will do is put further pressure on the Chinese government to support local formula manufacturers. That is something it's already doing to some degree. In addition, a breastfeeding education movement in Asia could be a factor. Advocates there run programs to educate new mothers of the benefits to breastfeeding, as opposed to using formula. 
No. 5: Wynn Resorts (NASDAQ: WYNN)
Wynn, via subsidiaries that owns casinos in Macau (the only region in China where gambling is legal), generates 70% of its revenues from China. Macau is slowing down thanks to a corruption crackdown (gamblers can no longer use Macau casinos to launder money).
Macau will see further business slowdowns if fewer people travel from China to the region. The bulk of Wynn's business in China is from gaming, and so the current shift in Macau, from gaming to resort-style destinations, is another negative.
Some of the aforementioned stocks have already taken a beating, including Wynn and Mead Johnson, whose shares are down 50% and 24% year-to-date, respectively.
Other stocks like Yum, Skyworks and Expeditors seem to be shaking off concerns about a potential  China crash by rising 10% plus year-to-date. However, stocks that have plunged can always fall further. And it might take a negative earnings report before the market fully comprehends that the Chinese economy will have a big impact on a U.S.-based stock.
How to sleep easy at night
Is the economy keeping you up night? Do you worry there's another crash just around the corner? If so, you can stop worrying right now. All it takes is a few minutes. Find out how right here.