One of the world's top investors just revealed his favorite trade.
And he thinks it could hand you big profits for the next 12 – 24 months (even if stock prices fall!).
Go here for this urgent briefing.
His name is Paul Tudor Jones. And his top trade is gold.
Just check out the recent jump in the SPDR Gold Shares ETF (NYSE: GLD). This gold ETF tracks the price of gold bullion.
Gold Prices Surge – Click Here for Top Three Stocks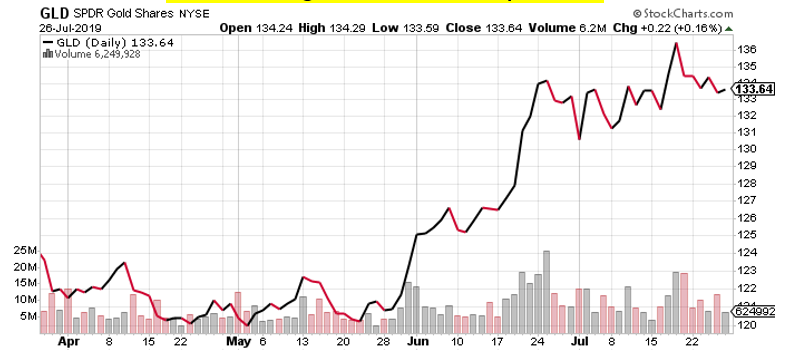 The billionaire hedge fund manager is known for predicting the stock market crash of 1987. And Tudor Jones' foresight made a fortune for his clients.
"Gold has everything going for it in a world of rates going down," Tudor Jones tells Bloomberg in this interview.
His target price for gold is $1,700 – 20% higher than the recent price.
Plus, Tudor Jones thinks that the U.S. and China trade war could send the economy into a recession. And when that happens he says…
"Gold in that situation is going to scream. It will be the antidote for people with equity portfolio."
Gold stocks will rise even faster than the commodity price. That's just one reason I'm hosting this exclusive briefing with one of the top resource investors.
Just click here to discover the top three gold stocks to BUY NOW (it's FREE).
Other billionaire hedge fund managers are also jumping into the gold trade.
Jeffrey Gundlach of DoubleLine is the world's biggest bond fund manager – with $130 billion of assets. And he recently told clients that he's bullish on gold.
Gundlach thinks there is a 65% chance of a recession within the next year.
Meanwhile, Ray Dalio is the world's biggest hedge fund manager in the world.
His "10% Golden Rule" says that you should have 10% of your assets invested in gold. Including 5% in physical gold coins, bars and jewelry. And the other 5% invested in gold stocks and ETFs.
Most folks don't have enough money invested in gold or precious metals. That's probably because these investments haven't done well in the past couple years.
But that's changing right now…
Gold prices are surging. And that could create windfall profits for gold mining stocks.
That's why I'm sitting down with Marin Katusa of Katusa Research for an exclusive conversation. Marin is one of the best analysts focused on resource investing and gold.
His track record includes raking in profits of 620% on Aben Resources, 730% on Sterling Resources, and 1,050% on Copper Mountain Mining.
I'm planning to BUY more gold and mining stocks in my portfolio – as a "hedge" against a U.S. recession. And that's why I'm having Marin come to share his top ideas.
Marin has promised to reveal his top three gold stocks to BUY NOW inside this briefing.
Plus, he has a secret resource investment that's become the #1 position in his entire portfolio.
Please join me for this exclusive conversation.
Just click here now to RSVP (it's 100% FREE).
Yours in Profits,
Ian Wyatt