One of the most important developments in virtual reality hit the headlines a few days ago. Did you miss it?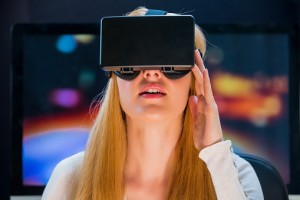 Facebook (NASDAQ: FB) is just weeks away from releasing Oculus Rift, the most important piece of virtual reality technology in history. GoPro (NASDAQ: GPRO) has already released camera arrays that simultaneously capture footage in all directions and seamlessly stitch it into virtual reality content.
But this latest development in the virtual reality revolution doesn't come from Facebook or GoPro or Apple (NASDAQ: AAPL) or Samsung. Instead, it comes from none other than Alphabet (NASDAQ: GOOGL), parent company of Google.
The latest development is an all-new virtual reality headset to accompany Google Cardboard, an inexpensive folded-cardboard frame that allows a user to turn their smartphone into a rudimentary virtual reality headset.
Google Cardboard itself costs as little as $19.99 and the company has actually made plans available to users for free so they can make a virtual reality viewer on their own. Think of Google Cardboard as "virtual reality for the little guy."
Google Cardboard and other virtual reality headsets allow users to enjoy spherical content, games and video that are produced with a full range of visibility in mind. For example, if you're wearing a Google Cardboard unit or another head-mounted display – HMD – and you turn your head to the right, you'll be able to see content that was previously off the screen to the right. You can look up, down and side to side.
Virtual reality is the closest that science – and science fiction – has gotten to letting you feel as if you're somewhere you're not. And the implications are huge.
Imagine closing your eyes, putting on a headset and then opening them to see the base camp of Mount Everest. Or imagine elementary school students being able to tour famous museums like the Louvre in Paris.
Immersive advertising and feeling like you're somewhere you're not are only the beginning. These are just some of the potential applications of the virtual reality technology that is about to take the consumer electronics industry by storm.
Google's Big Bet
The latest development is Google's way of doubling down on virtual reality.
Current headsets like Google Cardboard and Gear VR – a collaboration between Samsung and Facebook's Oculus VR – allow users to turn their smartphones into an on-demand virtual reality viewer. However, Google Cardboard offers a somewhat rudimentary virtual reality experience and Gear VR is only compatible with most Samsung Galaxy models.
Oculus Rift is expected to be considerably more powerful than the units that are currently on the market. However, Oculus Rift has to be tethered to a powerful computer that meets fairly advanced compatibility specifications in order to function.
Google's latest virtual reality headset is rumored to be a standalone unit, one that is less powerful than Oculus Rift but has the benefit of being able to go anywhere, according to The Wall Street Journal. It's expected to be released in conjunction with new Android virtual reality technology sometime this year. The latest technology is expected to resolve the issue of latency – the lag between a user's movements and the device's reaction that often causes nausea.
"(Virtual reality) is too important and too powerful a medium to be accessible to only a few," says Clay Bavor, Google's new head of Cardboard and other virtual reality efforts.
You can bet that Google's latest iteration of Cardboard will be significantly cheaper than the Oculus Rift, which has a pre-order price of $599 before tax and shipping – not to mention the high-powered desktop it takes to power the device.
Facebook's Oculus Rift is due out in the final days of March. The product features dedicated virtual reality sensors that deliver a level of virtual reality immersion that Facebook would like us to believe smartphone-based units simply can't deliver. However, this latest announcement from Google suggests that the technology giant thinks it can deliver more or less the same experience without needing a smartphone or a PC.
Only time will tell if the latest Google virtual reality device can live up to the hype of Oculus Rift. But I certainly wouldn't bet against Google.
Tesla, Apple and Google Are Creating This
When people think of Tesla, what immediately comes to mind is the world's first electric car. It's an astounding achievement. But what few people realize is that Tesla's next technological wonder could easily put it to shame. Morgan Stanley says this breakthrough could save the American economy $1.3 trillion each year. And Tesla's not the only one racing to get it out the door. Apple and Google are working on their own versions too.
Get the whole story right here.