The U.S. Department of the Treasury has long had tax inversions in its cross hairs. Now it's getting more aggressive than ever.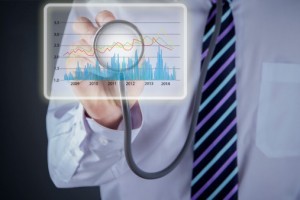 Last week the Treasury Department announced sweeping regulations aimed at reducing the number of corporate tax inversion deals and associated earnings stripping practices. The Treasury Department takes issue with companies merging to shift their home country to lower-tax countries overseas.
This has thrown major mergers into question, including the recently abandoned health care mega-deal between Pfizer (NYSE: PFE) and Allergan PLC (NYSE: AGN). Note that Allergan is based in Ireland, which has one of the lowest corporate tax rates in the world.
The new law could put an end to virtually all inversions.
And it's not just the recent inversion law that's putting pressure on the health care space. Politicians have been taking to task biotech companies for drug price hikes. With that, the iShares Nasdaq Biotechnology Index ETF (NASDAQ: IBB) has fallen 22% over the last year.
However, for prudent investors, there are still ways to get access to dividends in the health care space. There are still big benefits to being a health care company in the United States, including the strong infrastructure, workforce, and research and development advantages.
With that, there are still health care stocks worth owning. But the key is to concentrate on U.S.-focused companies. In particular, stick with those that aren't interested in subverting the tax law, but have plenty of growth opportunities and have a history of paying a safe dividend.
Here are the top two health care dividend stocks to own today:
1. St. Jude Medical (NYSE: STJ)
St. Jude Medical is a relatively small medical devices company, with a $15 billion market cap. It's paying out an underrated 2.2% dividend yield, which is just a 30% payout of earnings. And it has a five-year streak of dividend increases. As well, it's relatively cheap from a valuation perspective, trading at less than 13 times next year's earnings estimates.
St. Jude is a leader in the heart failure market. It announced it was buying up Thoratec last year, which will give it exposure to higher-growth markets. The acquisition gives St. Jude a broad portfolio of mechanical circulatory support devices, which treat patients with advanced heart failure.
2. AbbVie (NASDAQ: ABBV)
What makes AbbVie interesting is that it's already been through the tax inversion process and decided it wasn't worthwhile. AbbVie ended its inversion deal with Shire PLC (NASDAQ: SHPG) in 2014.
AbbVie has had a lot of success with its key drug, Humira. However, some investors are worried that this anti-inflammatory drug is facing increased competition – especially after its patent runs out at the end of the year. While that might be the case, AbbVie still has other growth opportunities, including its hepatitis C and cancer drugs. And it has nearly 20 clinical trials in Phase 3.
AbbVie is paying out a very hefty 3.9% dividend yield, which is a payout of less than 50% of its earnings. It has a 43-year streak of consecutive dividend increases. Plus, it's cheap too; it trades at less than 10 times next year's earnings estimates.
It's anyone's guess what the ultimate fallout will be for the new tax inversion law, but the recent sell-off in the health care industry has created buying opportunities. The two health care dividend stocks above are cheap and are offering solid dividends – and they won't get caught in the tax inversion crossfire.
This Is Making Ordinary People Rich
Ordinary people across America are getting insanely rich. Take Gladys Holm. She never earned more than $15,000 a year as a secretary. But by making one simple move, she was able to leave an $18 million fortune to a children's hospital when she died. There's many more just like her.
Find out how they did it right here.