Earlier this month Expedia (NASDAQ: EXPE) announced it would purchase the publicly listed Airbnb rival HomeAway (NASDAQ: AWAY) for $3.9 billion – a nearly 20% premium of its stock price at the time of the announcement.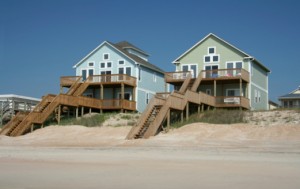 Expedia has grown to be an $18 billion company primarily through acquisitions of other travel brands. Expedia acquisitions this year include Orbitz Worldwide, which it bought for $1.7 billion, and Travelocity, which was a $280 million deal. Expedia also has the Hotels.com brand under its umbrella.
HomeAway is a vacation rental marketplace. With its acquisition, Expedia has just added a new segment of alternative vacation rentals to its travel offerings.
Industry Disruption
Besides being the biggest acquisition for Expedia this year, it is a significant move as it signals to the market that the big travel bookings company will not sit on the sidelines as Airbnb disrupts the hotel industry.
The alternative vacation rental market that Airbnb is tackling is one of the fastest growing segments online. It has been estimated as a $100 billion market. The travel-booking giant wants a piece of the pie too, and HomeAway provides exactly that.
Furthermore, Expedia announced that this acquisition will be different as HomeAway will continue to be run nearly autonomously in Austin, Texas.
HomeAway Grows in Airbnb's Shadow
Though the businesses are somewhat different, HomeAway has largely gone unnoticed and is rarely mentioned in comparison to its rival Airbnb.
Airbnb has gained the attention of investors and consumers alike as one of the most highly valued private companies. According to Fortune's unicorn list, Airbnb is the third-most highly valued private company, behind only Uber and a China-based consumer electronics company. Airbnb's most recent valuation placed it at a $25.5 billion, a giant jump from HomeAway's acquisition price tag of $3.9 billion.
But there's a big valuation difference between Airbnb and HomeAway: Airbnb's valuation is still only on paper, while HomeAway has proven its value in the public market.
Airbnb has not yet announced an initial public offering, but many expect that's on the horizon. Airbnb has largely benefited from the lack of a close competitor. Expedia's acquisition of HomeAway signals that competition will be heating up.
HomeAway has continuously been evolving its business model to more closely resemble Airbnb.
The primary difference between the two companies – which list many of the same properties – has been revenue models. HomeAway has functioned like a classified site where homeowners pay to post an ad. Payment processing is done between the two parties. Airbnb, on the other hand, is free to list any property, which has contributed to its variety of unique properties from sailboats to treehouses to mansions. A guest is charged a service fee when booking the property.
Recently, HomeAway said it planned to cut its homeowner fee and introduce a similar model to Airbnb. Thus, HomeAway renters and vacationers will begin paying a service fee.
Some investors fear we are in the midst of a private tech bubble. Valuations in the private sector have been growing rapidly, and Airbnb is among them. Recently, top companies like Snapchat and Dropbox have seen their valuations slashed. In September, Fidelity Investments reduced the estimated value of its stake in Snapchat by 25%.
As competition grows fiercer in the alternative vacation space, Airbnb will face another hurdle to prove its high private valuation is warranted when it decides to go public.
Expedia's End Game 
Expedia's HomeAway acquisition is a good move, taking it one step closer to its end game. Expedia seeks to create an online travel behemoth that competes with The Priceline Group (NASDAQ: PCLN). Priceline owns the brand Booking.com, the dominant booking site internationally, as well as Priceline.com and Kayak, another popular travel site. Priceline's market cap is $57 billion, compared to Expedia's $10 billion valuation.
Already Expedia and Priceline supply nearly 90% of hotels bookings in the U.S. through their online services. The Expedia acquisition of HomeAway is further evidence that the travel industry will continue to consolidate.
The Secret Silicon Valley Stock Exchange
Airbnb, Dropbox, and Uber don't trade on the Nasdaq. These investments are only available "off market." Until recently, they've only been available to billionaire investors, venture capitalists, and hedge funds.
Discover a simple back-door opportunity to invest today.
Just click here for the details.