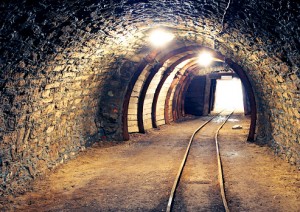 Activist investor Carl Icahn is at it again.
Famous for taking high-profile stakes in companies and pursuing big corporate changes and management shake-ups, Icahn this time has mining and energy giant Freeport McMoRan (NYSE: FCX) in his cross hairs. It was recently reported that Icahn, along with a group of other investors, has taken an 8.5% stake in the mining stock.
Icahn stated his belief that the company is undervalued and that he would contact management to seek changes to the company's capital spending and executive compensation. He may seek board representation. If Icahn is going to rescue this troubled company, he is going to need every resource at his disposal.
A Comedy of Errors
In recent years, Phoenix-based Freeport unveiled an ambitious goal of significantly branching out from its traditional copper and gold mining business. Management announced it was going to make a big push into oil and gas, and it did just that with two massive acquisitions.
In 2013, Freeport spent $19 billion to acquire two different oil and gas companies: Plains Exploration & Production and McMoRan Exploration.
At the time, the deals made a lot of sense. Oil and gas prices were high, and the United States was in the early stages of a major ramp-up in domestic energy production. The acquisitions instantly gave Freeport access to some of the premier oil fields in the country, including onshore plays like the Haynesville natural gas shale and both onshore and offshore fields in California.
In addition, Freeport made a big splash in 2014, when it secured several offshore oil drilling contracts in the deep-water Gulf of Mexico, another huge area of oil production.
Unfortunately, all this spending came at exactly the wrong time. It wasn't long before all that new U.S. production contributed to a 60% fall in oil prices.
Icahn to Push for Cost Cuts
It's likely Icahn sees Freeport as an attractive turnaround stock because of the potential for cost-cutting. Indeed, in the aftermath of the news that Icahn had taken a large stake in the company, Freeport reiterated its plans to slash costs.
First, Freeport will reduce capital expenditures by $900 million in each of the next two years, and reduce copper production by 150 million pounds per year in that time. The company is also planning an initial public offering for a minority interest in its oil and gas operations to raise additional funds.
Media reports also indicate the company may cut more than 1,500 jobs. Separately, the company cut its dividend in half to save even more cash.
Freeport Is in Distress, With or Without Icahn

Freeport's spending spree looks like a catastrophic mistake in hindsight. The acquisitions saddled the company with a great deal of debt. With commodity prices in a free fall, the company is in distress. It is taking measures to cut costs, but it's not out of the woods by any means.
Freeport holds $20.9 billion in total debt on its balance sheet, and just $466 million in cash and cash equivalents. The company is facing a very dangerous liquidity problem. Unfortunately, it isn't generating nearly enough cash flow to pay down its massive debt load. Freeport lost $4.3 billion just in the first half of this year.
With so much debt and mounting losses, it's no wonder why this mining stock has lost nearly three-quarters of its value over the past year. Whether Icahn's involvement is enough to turn the company around remains to be seen.
Unless commodity prices recover significantly, there is little Icahn can do. Cost cuts will only take a company so far. Investors may be attracted to Freeport on the news, but an investor has to be very bullish on commodities going forward to take the risk.
How Rockefeller really got rich

Upon his death, John D. Rockefeller held a fortune worth $336 billion in today's dollars. But the conventional account of how he actually made his billions is way off base. The truth is, much, if not most of Rockefeller's vast fortune was due to one simple move. And by making this same move, ordinary people across America are getting rich, too. The best part: you can join them today. All it takes is a few minutes.