In the past several quarters, investors' eyes have been focused squarely on Apple's (NASDAQ: AAPL) iPhone sales in China. And rightly so. Much of the company's near-term success now hinges on China.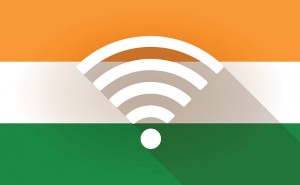 But eventually, the Chinese smartphone market will mature. Then investors will have to shift their gaze to another Asian giant for a read on Apple's continuing success.
As I've mentioned before, the last great untapped market for Apple is India.
Indian Internet Growth Soaring
By the end of the year, India will overtake the United States as having the world's second-largest base of Internet users. It will have over 400 million Internet users, trailing only China's 650 million.
Much of the rapid growth is being fueled by rising smartphone sales in conjunction with booming mobile data users. There are now 276 million mobile data users in India, according to the trade group Internet and Mobile Association of India. That is up from 159 million users just a year ago.
Research firm IDC says India is the fastest-growing smartphone market. It forecasts India will be the second-biggest smartphone market by 2017, surpassing the U.S.
This boom is due largely to two factors.
First, the average price of a smartphone fell to about $130-$150 last year. That is roughly half what a phone costs in China.
Second, cell service companies now sell packages of data for as low as 11 rupees (17 cents) for 30 megabytes of data. No wonder 94% of Indians with Internet access do so through their smartphone.
And there is more to come.
Internet penetration in India is still low. It is currently at 30% of the population. In comparison, China is at 50% and the U.S. is at 87%, according to the World Bank.
Pretty exciting growth prospects, right?
But to date, Apple has been a non-factor in India. At an astonishing 18th in Indian smartphone sales, it represents a minuscule 0.9% of the smartphone market.
Where Is Apple?
Apple sold only 1.7 million iPhones in India in its latest fiscal year. That compares with 1.1 million a year earlier. Both numbers are basically a rounding error for a company the size of Apple.
Apple badly lags the leaders in the Indian smartphone market at the moment. These are: Samsung (OTC: SSNLF) with 24%; two local firms – Micromax and Intex – with 16.7% and 10.8%, respectively; Lenovo (OTC: LNVGY) with 9.5%; and another local company, Lava International, with 4.7%.
Other players are crowding into India too. In its latest quarter, the "Apple of China," Xiaomi, crossed the 1 million sales mark for the first time in the country.
Obviously, Apple has to get its act in order in India – and soon.
Apple's Indian Smartphone Market Strategy
Apple has ignored this land of low-priced smartphones for too long. It hasn't even opened an Apple Store there yet.
But finally, India is on its radar. In Apple's latest earnings conference call, CEO Tim Cook said he was "impressed with our progress" in India.
The latest iPhone 6s went on sale in India soon after it did in the U.S. and was accompanied by a marketing blitz. And Apple has increased its presence in stores in mid-size Indian cities, where most middle-class Indians shops. Apple phones are now available in more than 4,000 retail outlets.
That number will rise next month. Apple is launching its "store-within-a-store" inside outlets run by electronics chain Croma. This company is owned by India's largest conglomerate, Tata.
Apple has also forged closer links in India with both Amazon.com (NASDAQ: AMZN) and its Indian counterpart, Flipkart, to offer discounts on its iPhones. The discounts are big on older models like the iPhone 5.
In addition, Apple has joined with local finance companies to offer cheaper monthly payment plans for Indian consumers that cannot afford the high price of an iPhone 6s.
Finally, it is believed Apple is considering manufacturing iPhones in India. That will cut the cost considerably for its phones in the country.
But don't expect Apple to jump into the Indian market with both feet just yet. It took its time in slowly building up its operation in China. Now today, Greater China accounts for nearly as much in total sales as the Americas do.
Look for the same strategy to unfold in India: Slow, but steady.
How to hitchhike on Apple's enormous success

If you've missed out on Apple's enormously successful growth, don't worry. The truth is, there's an entire universe of smaller companies that have grown right alongside with it—handing investors returns of 189%…200%…283%. But there's one that Apple would prefer you never know about. That's because it supplies the single most important component of every iPhone. Without it, Apple cannot exist. Discover it today before it shoots to the stars.