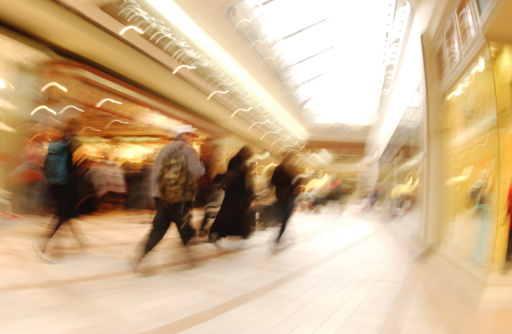 It wasn't all that long ago when retail stocks like Wal-Mart (NYSE: WMT) and Macy's (NYSE: M) were considered prime investments that you could buy and hold for the long term. If there was one thing more American and enduring than the iconic department store behind the Macy's Thanksgiving Day parade, it was, well, the Arkansas discount retail giant that transformed the way we shop. Investing in retail stocks seemed pretty simple.
But Macy's and Wal-Mart have both seen better days. As I recently wrote, it's not just online competition that's to blame, although online retailers certainly have intensified the competitive landscape. Rather, an ever-increasing number of choices and product information for consumers has changed the way we all shop in ways both online and off. The winning retail stocks these days are the stocks of companies that have responded wisely to these shifts.
Here are some of the key trends driving retail stocks these days and tips for smarter buys.
Value Trumps Discount
In you're investing in retail stocks, it helps to understand the difference between value and discount. All shoppers love a bargain but as an abundance of low-priced merchandise has become available, they're increasingly focused on value, rather than just low prices. Instead of Wal-Mart, consider Costco (NASDAQ: COST).
Although the two retailers offer a lot of the same merchandise, Costco has become an increasingly popular destination to buy quality food and household items in bulk, while Wal-Mart has suffered from a lack of focus. While Wal-Mart shares have fallen 14% over the past two years, Costco stock has risen about 32%.
Online Pioneers Retain Edge
Some of the pioneering online retail giants are now more than 20 years old. But those that have survived this long have established pretty solid positions. It's not that newcomers haven't tried to compete, but rather that it's just been difficult to catch up with the first movers.
Instead of investing in Etsy (NASDAQ: ETSY), consider eBay (NASDAQ: EBAY). Both businesses have their roots in quirky, unconventional approaches to retail, but the similarities stop there. While Etsy has failed to gain sufficient traction with its platform for selling homemade goods, eBay has successfully evolved from an online thrift store to a massive merchant of everything from apparel to electronics to cars.
While Etsy shares have tumbled 75% since going public last year, eBay shares have shown steady growth. Ebay shares had been up more than 20% over the past two years before a recent quarterly earnings disappointment eroded much of that growth. Ebay's latest dip presents a buying opportunity for investors who continue to see long-term potential.
The Department Store Isn't What It Used to Be
If you spent some of your holiday shopping in department stores, you may have been struck by how much department stores have changed. If you are interested in investing in retail stocks, think about your own shopping experiences. Many department stores offer steep discounts and have lost the crisp merchandising that was once so enticing. The problem is that discounts are easy to come by and many department stores seem to be engaged in a losing race to the bottom.
Instead of investing in Dillards (NYSE: DDS), consider investing in TJX Cos. (NYSE: TJX), which operates multiple successful discount retailers from T.J. Maxx to Marshalls. The former is struggling to fix an outdated retail model. The later has found a no-frills way to make shopping fun again with an eclectic mix of merchandise at affordable prices. Dillards stock has fallen by about 22% over the past two years; TJX has gained about the same amount.
Worry-Free Riches
They're owned by some of the wealthiest people on the planet. They share a few key similarities that distinguish them from 99% of equities. Even as the S&P keeps breaking record highs, they're still crushing it. In fact, over the last ten years they've outpaced it by a colossal 390%.