Editor's Note: Become an early cannabis IPO investor! Secure your PRE-IPO shares for just $1.25 – before this CBD stock goes public. Click here for urgent details.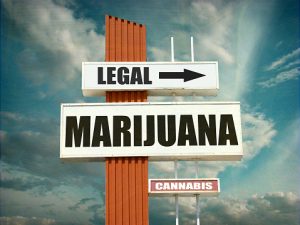 Legalization of cannabis is sweeping across America . . .
With Illinois legalizing cannabis in May and Michigan rolling out retail sales next year.
Plus, CBD products are now available nationwide at Amazon, CVS, Walgreens and over 10,000 other retail stores.
This next American CBD stock plans to dominate the market – and you can get in on the ground floor.
Click here to secure Pre-IPO shares for just $1.25.
Legal cannabis is booming.
Estimates suggest the market size is $8.6 million to $10 billion last year.
The market could reach nearly $13 billion in 2019!
That means America's legal cannabis market could generate more revenue than Taco Bell.
And within a couple years, cannabis could be greater than the NFL with annual sales of $15 billion.
The Marijuana Business Factbook just released this chart showing how legal cannabis stacks up with the sales of other goods.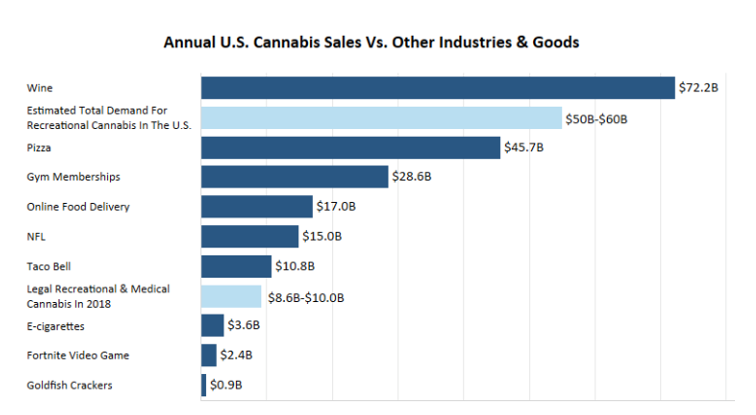 Here's the thing…
Those numbers only represent the recreational and medical marijuana markets.
They do NOT include sales of products using CBD.
CBD is a chemical compound from the cannabis plant. It provides health benefits and is used in wide range of products. Unlike THC, it doesn't provide a "high."
Forbes reports that CBD sales in the U.S. will surpass $20 billion within five years.
The CBD market really opened up in 2019 – thanks to the passage of the 2018 Farm Bill.
This new IPO plans to become America's #1 CBD company.
Three cannabis insiders are launching this company. They're raising $25 million to help fund a massive growth plan at 3,400 retailers.
Cannabis IPOs are usually OFF-LIMITS.
Right now, you can secure Pre-IPO shares for just $1.25.
Plus, you'll be ready to BUY shares as soon as the stock starts trading.
Just click here now for urgent details.
Yours in Profits,
Ian Wyatt