Yesterday, I explained what's behind the Marijuana Bloodbath.
That's why I just announced this urgent briefing:
Bloodbath Millionaire: A Simple Profit Strategy for a Crashing Market
Today, I want to explain what's going to happen next.
You see, we've seen an absolute collapse in the market. Regular investors have gone from enthusiastic cheerleaders . . . to troubled skeptics . . .
Within 30 days.
Right now, the market is at a point of capitulation. Most folks are throwing in the towel . . .  vowing to never buy another marijuana stock ever again.
If you're concerned . . . and don't know what to do next . . .
In the past year, I've seen a pattern emerge for marijuana stocks. In fact, I'm going to share four case studies with you. These are all based upon the movements for the Horizons Marijuana ETF (TSE: HMMJ).
CASE STUDY #1: December 2017 – January 2018
The pot stock ETF jumped 84% from mid-November to early January.
It then plunged 42% in a couple of weeks.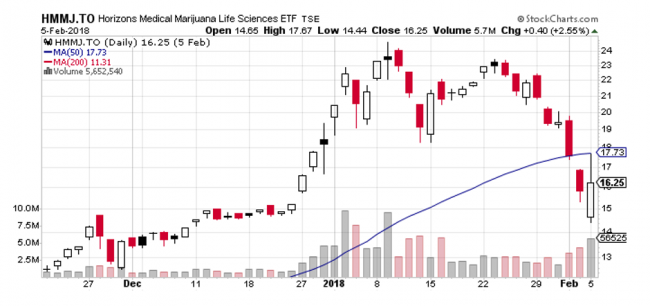 The same thing happened in the spring. The market bounced back after the February decline.
It then lost one-quarter of its value in three weeks.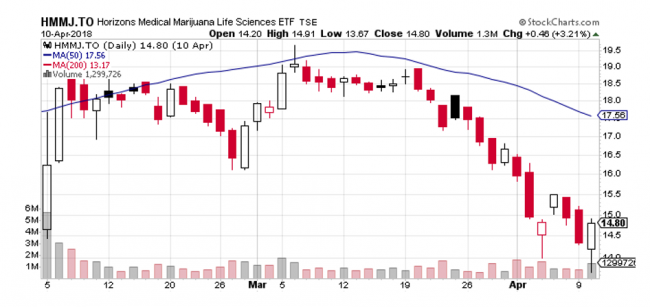 Between May and late June, the marijuana ETF jumped 25%.
Those gains were then completely erased by mid-July as the stocks when out of favor.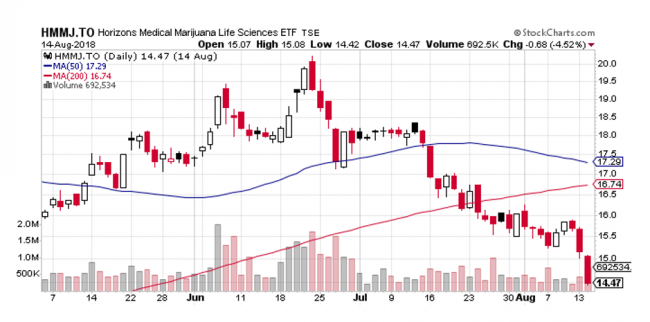 Click here to profit from the current market bloodbath.
The same thing is happening right now. The market jumped 80% from mid-August through mid-October.
And it's since given up a huge portion of those gains – falling 37% in the last month. You can see the move inside this chart: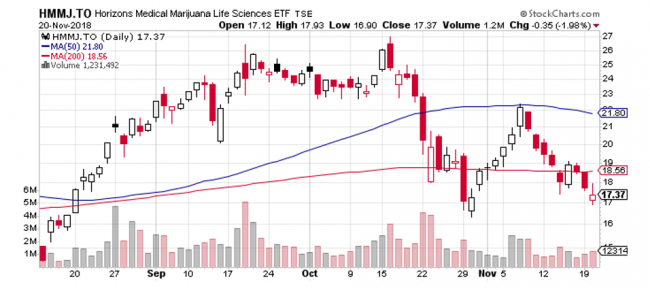 Here's the thing.
Each of these declines happen very quickly – just like the current drop. When marijuana stocks fall – they do so very quickly.
Yet the declines typically aren't sustained. Typically, within 30 to 60 days, the market has rebounded and recovered most or call of the losses.
Today, the Horizons Marijuana ETF is re-testing the $17 level. The ETF reached this point in late October, and quickly bounced higher.
In early morning trading, the ETF is bouncing higher from yesterday's lows.
This is an important signal that this sector of the market is bottoming out right here.
Most folks will throw in the towel.
Yet those who BUY the bottoms have historically earned huge profits in the very short term. That's why I'm a BUYER – not a SELLING – in this market.
Go here now to profit from the downturn:
Bloodbath Millionaire: A Simple Profit Strategy for a Crashing Market
Yours in Profits,
Ian Wyatt