Martha Stewart is known as "The Queen of Living Well."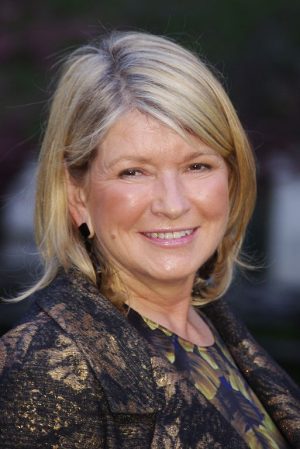 Now she's taking "living well" to a whole new level by launching these cannabis CBD products.
It's the latest signal that CBD is on-track to become a $22 billion business. And one undiscovered CBD company plans to lead this booming market.
Just click here to become an early investor (before the IPO).
In February, Martha Stewart announced that she was partnering with Canopy Growth (NYSE: CGC). Canopy is the world's most valuable cannabis company.
At the World Cannabis Conference, Stewart revealed her plans.
Right now, she's working to develop new products related to pet care, cosmetics and body care.
"I've been experimenting little bit with some of the good products that are available now, I find them very useful and really good for your skin, and I think the anti-inflammatory qualities of some of them are very good," said Stewart.
The 77-year-old food and lifestyle guru was introduced to Canopy Growth by Snoop Dogg.
Snoop hosts a cooking show on VH1 with Steward. And he also has a cannabis brand called "Leafs By Snoop" that are sold in Canada by Canopy.
CBD products are going mainstream.
46% of the people attending my latest webinar say they have used CBD products.
Meanwhile, America's biggest grocery stores and pharmacies are now offering CBD products. This includes Kroger's, CVS, Rite Aid, Vitamin Shoppe and Walgreens.
One undiscovered company is at the forefront of the CBD revolution.
This year, the company's sales are expected to reach $12 million. And next year, that's expected to surge 400% and reach $60 million!
How's that possible?
The company's CBD products are now available in 3,400 retail stores. Plus, Amazon is now carrying the products as well.
That growing distribution – and consumer demand – is sending sales soaring.
Right now, the company is private. But it's getting ready to go public in an Initial Public Offering. And it could happen within just 90 days.
Click here to get on the IPO Priority List.
My estimates suggest the stock price could surge 460% (or more) when the company goes public.
Frankly, this situation will be CLOSED on Friday at 5 p.m. And that's why I'm hosting this urgent briefing tonight.
LAST CHANCE: Secure $1.25 CBD Cannabis Pre-IPO Shares
Seriously, in less than 24 hours this deal is 100% unavailable.
That's why I'm organizing this last-minute briefing.
Just click here to join me (it's FREE).
Yours in Profits,
Ian Wyatt
P.S. It's 100% FREE to attend tonight at:
8 PM Eastern (New York)
7 PM Central (Chicago)
6 PM Mountain (Denver)
5 PM Pacific (Los Angeles)